In 2004, two German bombers were raised from a depth of 74 meters in Lake Jonsvannet near Trondheim: a Junkers Ju 88 A-1 (U4+TK) and a Heinkel He 111 H-2 (6N+NH). The Ju88 is now under restoration at the RNoAF Collection at Gardermoen). Just before the lifting operation, Roar Glenne finally got to hold of Artur von Casimir. He had flown the Heinkel He 111 H-2, which sank after landing on the frozen water on April 20, 1940. He was invited up to Trondheim, and he was at that moment 95 years old. It was a special meeting where he told a lot of interesting things. Captain Artur von Casimir was appointed commander and leader of battle group 100 "Wiking" (K.Gr.100) on February 21, 1940. He led the attack on Oscarsborg on April 9. Later, his unit operated from the frozen Lake Jonsvannet and Værnes airfield against Namsos, Ålesund, Kristiansund, Narvik and allied warships until he was shot down by Hawker Hurricanes from RAF 46 Squadron on May 29, 1940. He was taken prison, and spent the remainder of the war in England and Canada until 1948. The special thing here was that he used his private camera until he ran out of film. Incredibly, von Casimir kept his camera and film under captivety. Roar Glenne got permission to use the pictures.
Bokanmeldelse:
Knut Erik Hagen – Flyhistorie 61 – September 2021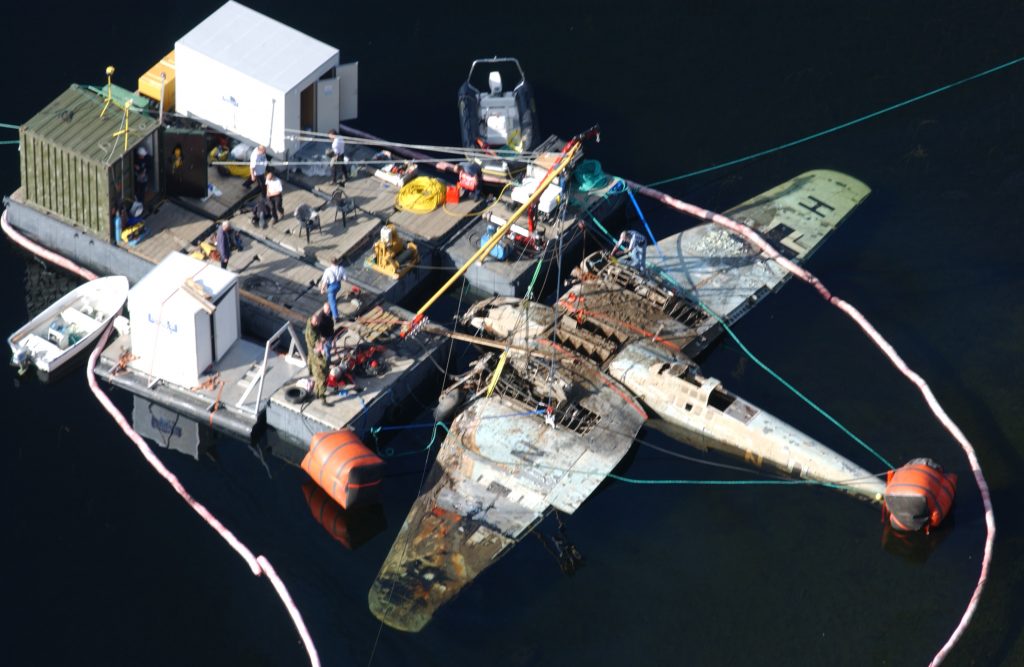 Roar Glenne managed to track down four original pages of Von Casimir's logbook from Forbes Wilson in England. It was given Forbes Wilson as a gift by Artur. His father had survived the bombing of AST Rutlandshire (Anti Submarine Trawler) in Namsfjorden, which Artur helped to sink. In addition, Roar Glenne received a copy of the logbook. It was now easy to interpret and read which flights he was on and how the Luftwaffe operated, among other places, from Ålborg West in Denmark. In addition, Roar Glenne a 3-page personal report on the shooting at Ulvsvåg in northern Norway. Furthermore, Roar Glenne was allowed to use his private photographs, and he found photographs from other sources to illustrate the results of the bombing.
Some photographs from the book: