By: Rob J M Mulder
For: www.europeanairlines.no


One of our first fleet lists was the one of the airline company Aeroput (meaning 'Airway' in Serbian) and thus it is now time to write a little bit more about this company. It took some time before an airline company was formed in the Kingdom of Serbs, Croats and Slovenes, but after the foundation the company had a steady development into one of the main carriers in the region, flying to other countries like Austria, Greece and Czechoslovakia. In this article we focus on the history of Drustvo za Vazdusni Saobracaj A D – Aeroput.
The first commercial airline company in the Kingdom of Serbs, Croats and Slovenes was founded on 29 May 1927 at Beograd with a stock-capital of 9 million Dinars. Its name: Drustvo za Vazdusni Saobracaj A D – Aeroput. The aim of the company, generally known as Aeroput (and in some sources Aeropout) was connecting the Northern area of the country with Romania in cooperation with foreign airline companies (i.e. CIDNA) and to connect Zagreb and Skoplje with the capital Beograd. After a further extention of the Panchevo Airport (the main airport of Beograd, where three wooden barracks and a concrete aprone were constructed) Aeroput could establish its technical site in one of the hangars and its office in one of the barracks. In the year of the foundation Aeroput became member of the International Air Traffic Association – IATA. No service were operated in 1927 due the delay in the delivery of the French aircraft.
The friendship agreement with France and the good co-operation with the pan-European airline company CIDNA resulted in the order of a batch of Potez 29's. Rather delayed, the first aircraft were not delivered until January 1928. This nice biplane was powered by one 450 hp lorrain-Dietrich 12Eb engine and the Aeroput-version (marked Potez 29-2) carried five passengers in stead of the standard four. The first aircraft carried the registration X-SEBC and was christianed Beograd. It was followed by another three registered X-SEBD Zagreb, X-SEDF and X-SEDG Skoplje. With these solid aircraft in service Aeroput could start regular flights.
On 15 February 1928 Aeroput started the feeder-service Zagreb – Beograd with the first flight made by the Potez 29-2, X-SEBC. All aircraft were used on the daily flown air route (not flown on Sundays), which turned out to be very popular. When the air route was suspended in November regularity had reached 99.5%! No less than 411 flights were made that year carrying 1,322 passengers, 7,610kg of luggage, 2,530kg of freight and just 37kg of mail. The aircraft made 965 flying-hours and flew 148,840km.
The service between Beograd and Zagreb was just 359km long but saved enormous traveltime. In Beograd the line connected with the CIDNA-service to Bucurest (Romania) and Budapest (Hungary).
The Government secured the company with a reasonable subsidy which covered maximum 400 flights over the Beograd – Zagreb air route. This subsidy remained unchanged for the 1929- and 1930-season. On top of the subsidy Aeroput was offered free meteorological information and radio-assistance.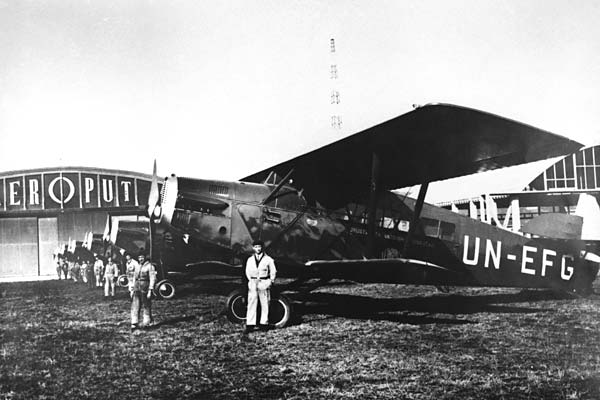 In 1929 Aeroput started its expansion to surrounding countries. First of all the airport at the second major destination of the masterplan, Skoplje (Üsküb), was ready for use and on 21 August Zagreb – Beograd was extended to Skoplje. In the near future this line was to be prolonged to Greece and Thessaloniki. Furthermore Aeroput in co-operation with the CIDNA and Austrian airline company Österreichische Luftverkehrs AG – ÔLAG set up a trial service between Beograd, Zagreb, Graz and Wien. Between 9 and 17 October this experimental service gave valuabel information on how to fly this air route without any big problems.
The fleet of four Potez's was extended further by two aircraft, delivered to Aeroput January 1929. They were allocted the new registration UN-EGH and UN-EHI. During their long stay with Aeroput all Potez-aircraft received new registrations:
Originally     Changed into:
X-SEBC          UN-EBC, UN-SAB, YU-SAB
X-SEBD          UN-EBD, UN-SAC, YU-SAC
X-SEBF          UN-EDF, UN-SAD, YU-SAD
X-SEFG          UN-EFG, UN-SAE, YU-SAE
UN-EGH       UN-SAF, YU-SAF
UN-EHI         UN-SAG, YU-SAG.
Only four other aircraft were delivered to Aeroput, which carried UN-registrations. More about those later. Up to 1932 the Potez 29-2 performed marvalous work and was the backbone of the airline company's fleet.
The number of flights increased in 1929 to 510. The aircraft flew 192,120km (in 1,233hr20min. flying-hours) and transported 1,830 passengers (+38%), 12,575kg luggage, 4,914kg freight and 49kg mail. Though the economic resession hit the now-called Kingdom of Yugoslavia hard as well, Aeroput managed to grow further.
On 31 March 1930 Aeroput opened its extention to Graz and Wien (flown as an experimental service in October 1929) and flew it in pool with CIDNA and ÖLAG. Another new service was opened on 1 July by the Czecho-slovakian Českolovenske Státni Aerolinie – ČSA and ran from Praha, via Brno to Bratislava and Zagreb. ČSA used its newly required Ford 5-AT-C, OK-FOR on the service. Aeroput was poolpartner but the Yugoslav company never flew with its aircraft over the route. In stead it provided a connection between Zagreb and Sušak, also known as Fiume. The latter city was devided between Yugoslavia and Italy and is nowadays called Rijeka. Sušak was the Yugoslav part of Fiume.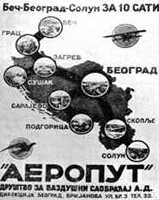 A new domestic air route operated in 1930 was Beograd – Sarajevo – Podgorica. Finally a new foreign destination was added to the Aeroput-network when flights to Thessaloniki in Greece were taken up. This air service was commenced on 1 July 1930. Thus Aeroput's network included 3 foreign (the CSA/Aeroput-service to Czechoslovakia not included) and 5 domestic destinations. Results improved considerably: 282,644km flown, 2,317 passengers, 18,148kg luggage, 13,977kg freight and 1,135kg mail transported! Huge increases compared with 1929. There was a doubling of the number of flights: to 1,098. Well 50% more flying-hours were made as well: 1,811hr50min. Impressiv results.
During the wintermonth (generally the period from October to March) Aeroput did not fly. On 31 March the poolservice to Wien was re-opened and flown by all three poolpartners. Aeroput resumed Air Service No.626 from Beograd to Skoplje and Thessaloniki on 16 April flying it three times weekly in each direction: Tuesday, Thursday and Saturday to Thessaloniki with returning on Monday. Wednesday and Friday. The Air Service No.628 connected Beograd with Sarajevo, Split, Sušak and Zagreb and was resumed on 15 June. There were two flights weekly along the whole service (on Tuesday and Friday, with return on Wednesday and Saturday) while Beograd – Sarajevo on Mondays continued to Podgoriza instead of Zagreb. On Thursday an aircraft returned over this Air Service No.625. The two domestic routes were suspended on resp. 12 and 14 September, while the two international routes were closed down by 15 October.
In connection with CSA's Praha – Zagreb-service Aeroput flew between 15 June and 15 September to Sušak. Furthermore, Aeroput made between 15 October and 1 December some trial flights over the Wien – Beograd – Thessaloniki-service. Only Aeroput conducted the trial flights once weekly in each direction. The reason for the 1,242km long trial route was to gain experience in off-season. Regularity reached 100%!
Aeroput possibly used its newly delivered Farman F.306, UN-SAH (ex F-ALHP), equipped with three 240 hp Lorraine 7Me-engines bought or chartered from the French airline company Société Générale des Transports Aériens – SGTA. It was a high-wing monoplane with a cabin for eight passengers. Its cockpit (with seats for two pilots) was ahead of the wing. Beside the purchase of the Farman F.306 Aeroput took delivery of the first ordered De Havilland aircraft. The de Havilland Aircraft Co. Ltd. had opened a branch office in Beograd headed by Capt T G Mapplebeck and Mr Pearse. The agency was very successfull and many aircraft were sent to the Kingdom of Yugoslavia during the thirties. The first Aeroput-purchase was the De Havilland D.H.80A Puss Moth (UN-SAA), which, as the Farman F.306, arrived in June 1931 at Beograd. With this aircraft Aeroput started air taxi-flights. The D.H.80A Puss Moth was a high-winged single-engine aircraft in the traditional De Havilland-style. It could carry two passengers and one pilot. In July and September 1932 Aeroputt bought a further two products: a D.H.60M Moth (UN-SAI) and a D.H.83 Fox Moth (UN-SAK).
Even though the Potez 29 still formed the backbone of the company's fleet it became clear that more modern aircraft were required. In 1932 Aeroput placed an order for two Spartan Cruiser Mark II, supple-mented by a third one in 1935. This aircraft had an all-metal fuselage and was powered by three 120 hp de Havilland Gipsy Major-engines.
In 1932 Aeroput resumed the Beograd – Zagreb – Graz – Wien air service on 2 May and continued to fly it in pool with ÖLAG until 31 August. During September Aeroput flew the service alone. Several domestic routes were suspended due to lack of subsidy and in 1932 only Beograd – Zagreb (resumed 16 March and flown until the opening of the air route to Wien) and Beograd – Skoplje with connection to Thessaloniki (between 2 May and 20 September) were under operation. CIDNA was the poolpartner on latter service. Aeroput did not fly two seperate services to Wien and Thessaloniki, but operated it as one through service. For the years 1931 and 1932 Aeroput obtained the following results:
                                      1931                1932
Passengers                1,807               1,220
Luggage (kg)            17,855             11,307
Freight (kg)               10,016             15,285
Mail (kg)                   851                  1,003
Kilometres flown    259,321           241,425
The number of passengers sank due to the reduction in the network with over 33 %. The number of flights decreased to 925 in 1932 (1931: 1,038) as well did the number of flying-hours: from 1,701h05min. to 1,511h55min. Regularity reached on the Beograd – Wien service: 100%, but the more demanding service to Saloniki achieved just 99.42% .
In 1933 Aeroput managed to extend its services again also on the domestic network. The air route to Thessaloniki (resumed on 1 May) now continued once a week to Athínai, the capital of Greece. In May and August Aeroput flew three weekly flights to Saloniki, increasing it to daily flights (except on Sundays) in June and July. On 5 May the Beograd – Wien-service was re-opened, but both were suspended for the season on 31 August. On 19 June Aeroput started to operate over the Zagreb – Rijeka (Sušak) air route, while between 21 August and 28 October an air route was established (6x weekly) between Zagreb and Ljubljana. From Ljubljana Aeroput opened on 1 September a new connection to Rijeka, also operated 6 times weekly. After the suspension of the international services the aircraft continued to fly to Zagreb (until 28 October) and Skoplje (until 18 October). On 28 Ooctober all air routes were closed down.
In February the De Havilland D.H.80A Puss Moth was sold to the UK and registered G-ACDU. Furthermore, September 1933 saw the delivery of the first of three Spartan Cruiser Mark II, the YU-SAN. As can be seen from the regisration the Kingdom of Yugoslavia had now adopted the letter YU instead of UN. But September brought also the first recorded severe accident of an aircraft. On 12 September an Aeroput-aircraft crashed on the Ljubljana – Sušak service killing eight passengers. It was the Farman F.306 YU-SAH.
There was a slight increase in the number of flights: 937 (+ 12 flights), as well for passengers: to 1,947. It passed the 1931-figure. All other figures decreased dramatically: Freight to 5,795 kg and mail to 273 kg. Luggage increased due to the higher number of passengers carried and ended at 14,687 kg. But the total number of flying-hours (down to 1,419h44min.) and the number of flown kilometer (down to 230,521) sank. Regularity reached 98.94%. The loadfactor indicates well how the company is develloping. Here a short list with loadfactors for 1933 in %:
Beograd – Zagreb – Graz – Wien   33.1 %
Beograd – Skoplje – Thessaloniki 25.8 %
Zagreb – Sušak                                63.6 %
Zagreb – Ljubljana                          37.8 %
Ljubljana – Sušak                            85.6 %
Beograd – Zagreb                            34.4 %
Beograd – Skoplje                           29.2 %.
That gives an average of 44.21 %. The domestic air routes scored best (with an average of 50.12 %), while the international air routes scored just 29.45 %.
The second Spartan Cruiser Mark II (YU-SAO) was taken in use May 1934, while another strange fish supplemented the fleet as well: a Breguet 19/X. Especially the additional letter "X" give historians something to think about. The registration of the Breguet 19/X was YU-PCJ and it was cancelled shortly afterwards. Nothing is known of its operations with Aeroput.
The network was slimmed again in 1934 leading to the operation of the following four main services:
405: Beograd – Zagreb – Graz – Wien from 1 May to 31 August;
626: Beograd – Skoplje – Saloniki from 1 May to 31 August (connection with Air Service No.405);
627: Ljubljana – Zagreb – Rijeka (Sušak) from 15 July to 10 August (6x weekly, twice a day of which one flight directly between Ljubljana and Rijeka (Sušak) – see Air Service No.628); and
628: Ljubljana – Klagenfurt from 1 July to approx. 10 August (with connection to Rijeka (Sušak) – see Air Service No.627).
For the 1935-season Aeroput made some minor changes to its network. On the Air Service No. 405 to Wien an extra landing/start was added at Borovo, where Bat'a (the famous Czechoslovakian shoefactory) had an office and factory. Between Beograd and Skoplje a landing at the small town of Nish (between 1 May and 22 July) was included, while on the way from Skoplje to Thessaloniki Aeroput included a landing at Bilolj on Sundays only. Three times weekly the non-stop air route Beograd – Sarajevo was added to the timetables.
Aeroput had obtained the manufacturing licence for the Spartan Cruiser II for the Kingdom of Yugoslavia. The third Spartan Cruiser Mark II was thus built at the Fabrika Zmaj at Zemun Airport and delivered as YU-SAP (c/n 1). It came to Aeroput in May of that year. All three Spartan Cruiser Mark II's were withdrawn from service around 1938. In 1936 new aircraft were delivered. First of all the De Havilland D.H.89 Dragon Rapide arrived from Stag Lane, England. It was registered YU-SAS and was delivered in July 1936. In addition, Aeroput took over the own designed and built Aeroput MMS.3, a three-seat cabin monoplane with two 90 hp Pobjoy Niagara engines. It was designed and constructed at Aeroput's headoffice at Zagreb under super-vision of M Mitrovitch-Spirta (hence the letters MMS). The small three-seat aircraft was meant for taxi-work and was to supplement the De Havilland-aircraft (D.H.80A and D.H.83). The two engines gave the aircraft a respectable speed of 215kmh.
The De Havilland D.H.89 Dragon Rapide could be used on the network, which, by the way, only saw minor changes again. The Air Service No.629 to Sarajevo was extended to Ragusa (nowadays called Dubrovnik). Aeroput flew between 1 May and 31 August and only on Sundays to Thessaloniki, while ÖLAG, Deutsche Luft Hansa AG (DLH) and Air France (the successor of CIDNA) took care of the remaining days of the week. As a matter of fact Aeroput suspended its flights to Wien as well as this was taken care of by foreign airline companies. Instead it concentrated on domestic services. Except the Beograd – Sarajevo – Ragusa air route (opened 30 June, suspended 6 October) all connections were resumed by 1 May and suspended by 31 August. Again only the important Beograd – Borovo – Zagreb air route was flown until 19 November. In the summer months (1 May-31 August) this air route was extended to Sušak and Ljubljana.
Results for the previous three seasons (1934-1936) were:
                            1934             1935                1936
Passengers      3,652            4,273               4,262
Luggage (kg)  29,603          36,431             *
Freight (kg)     4,008            11,105             *
Mail (kg)          386               2,013               9,648
Km. flown       245,154        283,158           321,347
* The results in the freightsector for 1936 were devided over the following posts:
Goods and luggage            6,791kg
Newspapers                         4,548kg
Mail                                       5,100kg
The number of flights ended on 1,916 with 98.3 % regularity. The loadfactor on 63.5 %. Quite an improvement. For the next years statistics of Aeroput operations are scarce. Complete results for 1937 are the only one's known.
By 1937 Aeroput had started with the renewal of its fleet. Modern airliners were ordered in the United States of America. First two aircraft used for the shorter air routes were delivered. They came from France and were Caudron C.448 Göeland (YU-SAT and YU-SAU). The Caudron-aircraft were powered by two 220 hp Renault Bengali Six engines giving it a cruising speed of 261 km/h. It transported six passengers.
July saw the delivery of the first two of eight Lockheed L.10A Electra's ordered from the Lockheed Factory in the USA. With this type of aircraft Aeroput could fly for many years to come. Poland (ten aircraft) and Romania (seven aircraft) had ordered the type as well. To Aeroput came a further two in 1938, followed by the last four in 1939. By January 1938 the most obsolent aircraft were withdrawn from use. Aeroput's fleet consisted on 1 January 1938 of the below mentioned aircraft:
two Spartan Cruiser Mark II (YU-SAN and YU-SAO;
one Aeroput MMS.3 (YU-SAR);
one de Havilland D.H.89 Dragon Rapide (YU-SAS);
two Caudron C.448 Göeland (YU-SAT and YU-SAU); and
two Lockheed L.10A Electra (YU-SAV and YU-SAZ)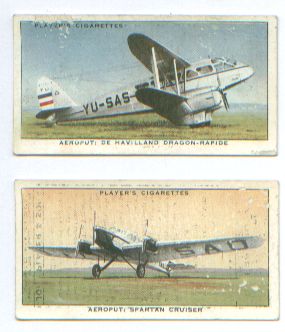 By that day all Potez 29s were withdrawn from use after well eight years of service. John Stroud writes in Wings of Peace, The Potez Biplanes (Aeroplane Monthly, September 1989) that two were used for cropdusting in 1932, while four were still in service in 1936. But by 1 January 1938 all were withdrawn from use. For training-flights Aeroput still possessed the D.H.60M and for air taxi-flights the D.H.83. So the fleet of Aeroput consisted out of 10 aircraft.
After one year of suspension Aeroput re-opened the Zagreb – Graz – Wien air route on 15 June and operated it three times weekly in both directions. The service to Thessaloniki was also re-opened (on 1 May) and again only flown on Sundays. Domestic air services remained virtually unchanged. Ragusa was now also via Sarajevo connected with Zagreb.
By the end of the season Aeroput had carried 5,376 passengers, 11,217kg freight and goods, 108,775kg newspapers and 2,830.75kg mail and parcels. The aircraft had flown 430,337km, which meant a large increase in the overall results.
In 1937 Aeroput was led by Ing Tadiya Sondermayer, while Mr Ing M Mitrovitch-Spirta headed the Technical Department and Dr André Mitrovitch the General Management. Director Mata Hodjera was Traffic Manager. The Board of Directors was led by the President, Dr Drag D J Novakovitsch, Vicepresident was Mr R Pilz. Beside them there were nine members on the Board, among them Colonels, industrials, lawyers and engineers.
Click on picture for larger image.
In June 1938 a further batch of Lockheed L.10A Electra's were handed over to Aeroput, which by now had a fleet of four. With the new Lockheed L.10A Electra Aeroput was able to operate a direct connection between Beograd and the Bulgarian capital Sofia (Air Service No.2006), which was operated until 30 September with three times weekly one returnflight. Furthermore, on 15 June the company commenced to operate the air route Ragusa – Sarajevo – Zagreb – Wien – Brno – Praha (Air Service No.2007), which it suspended on 15 September. Three times weekly in each direction aircraft connected Ragusa and Praha.
In addition a new air service (No.2008) to Kingdom of Yugoslavia's small narbour Albania was opened. From August Aeroput flew from Beograd with a landing at Ragusa to Tirana, the capital of Albania.
The Saloniki service, resumed on 1 May, was still only flown by Aeroput on Sundays, but did now only land at Skoplje on its way to and from Beograd. After long discussions a Hungarian-Yugoslavian Air Treaty could eventually be signed on 10 May 1939 and the first result was the opening of an air service Budapest – Zagreb – Venezia – Roma and Budapest – Beograd (with connection to Athínai) opened by MALÉRT and Aeroput.

On 1 September 1939 all services were due to the outbreak of the Second World War suspended. It is not clear which air routes Aeroput managed to operate during 1940, but the end of the company came with the German attack on the Kingdom of Yugoslavia on 6 April 1941. On 17 April the country was forced to caputilate and the King fled to Egypt by using an Aeroput Lockheed L.10A Electra (YU-SBA?), which possibly passed to the Royal Air Force as AX700. Aeroput was liquidated after the capitulation (in 1948) and in 1946 succeeded by the Jugoslovenski Aerotransport – J.A.T.
Fleet list of Aeroput can be found under: Aeroput
Drawing of Lockheed L.10A Electra, YU-SAZ by the hand of Vladimir Bykow.
Thank you for input and correction: Ales Lidija