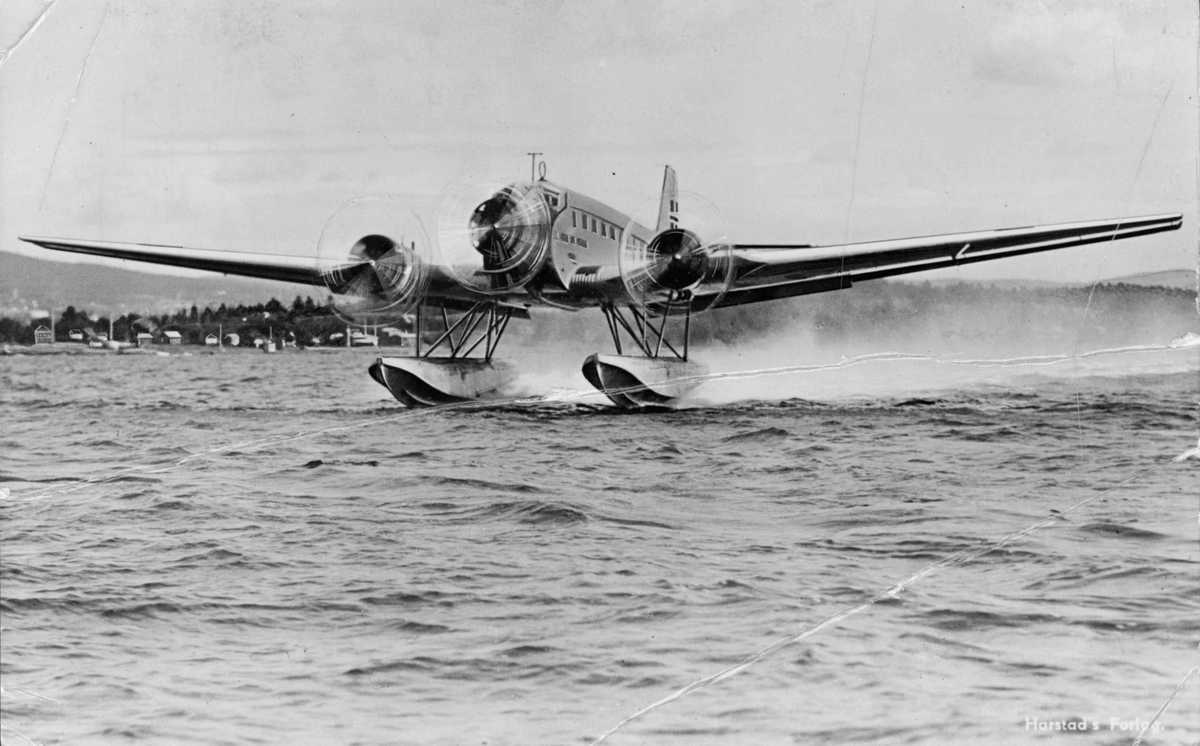 By: Rob J. M. Mulder
For www.europeanairlines.no
The general history of the Junkers Ju 52/3m is well-known. After the first flight of the aircraft in March 1932, it took three year before the first Ju 52/3m was delivered to Norway. The first customers in Scandinavia were Sweden and Finland.
In April 1935, the Norwegian airline Det Norske Luftfartselskap, Fred. Olsen & Bergenske A/S (DNL) was awarded a State subsidy and concession for national and international air service for a period of ten years. The problem was that aircraft deliveries took some months, so the company was in danger not to get delivered any aircraft before the flying season was over. The German airline Deutsche Lufthansa and the Junkers aircraft factory came to the rescue. They offered a Junkers Ju 52/3m, D-ANOP (c/n 4077, seaplane version) on a charter base and with the possibility to buy the aircraft after the season. Parts of the sum paid in rental would cover the purchasing costs.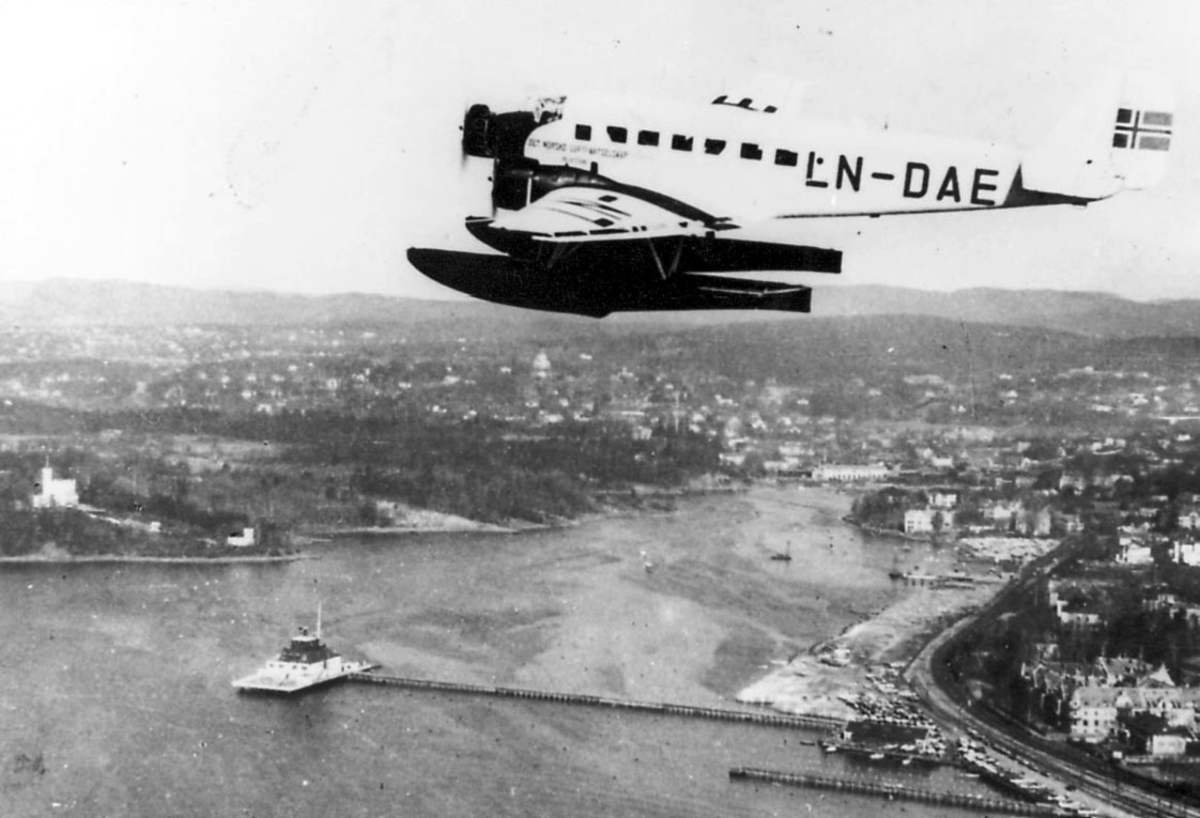 In June, DNL received its first Junkers Ju 52/3m, which was registered as LN-DAE and given the name "Havørn" (Sea Eagle). Due to lack of Norwegian crew, a German crew lead by "Flugkapitän" Fritz Palm was supplied as well. They flew the aircraft during the entire season. On 11 June, the coastal service Oslo – Moss – Arendal – Kristiansand – Stavanger – Haugesund – Bergen was inaugurated. In July, DNLs first delivered aircraft, the Junkers W 34 hi, LN-DAB "Ternen" (the Stern – called after the bird in the company's logo), inaugurated a route from Bergen to Tromsø via Ålesund, Molde, Kristiansund, Trondheim, Brønnøysund, Sandnessjøen, Bodø, Narvik and Harstad. It was soon obvious that this small aircraft could not cope with the high demand.
More new aircraft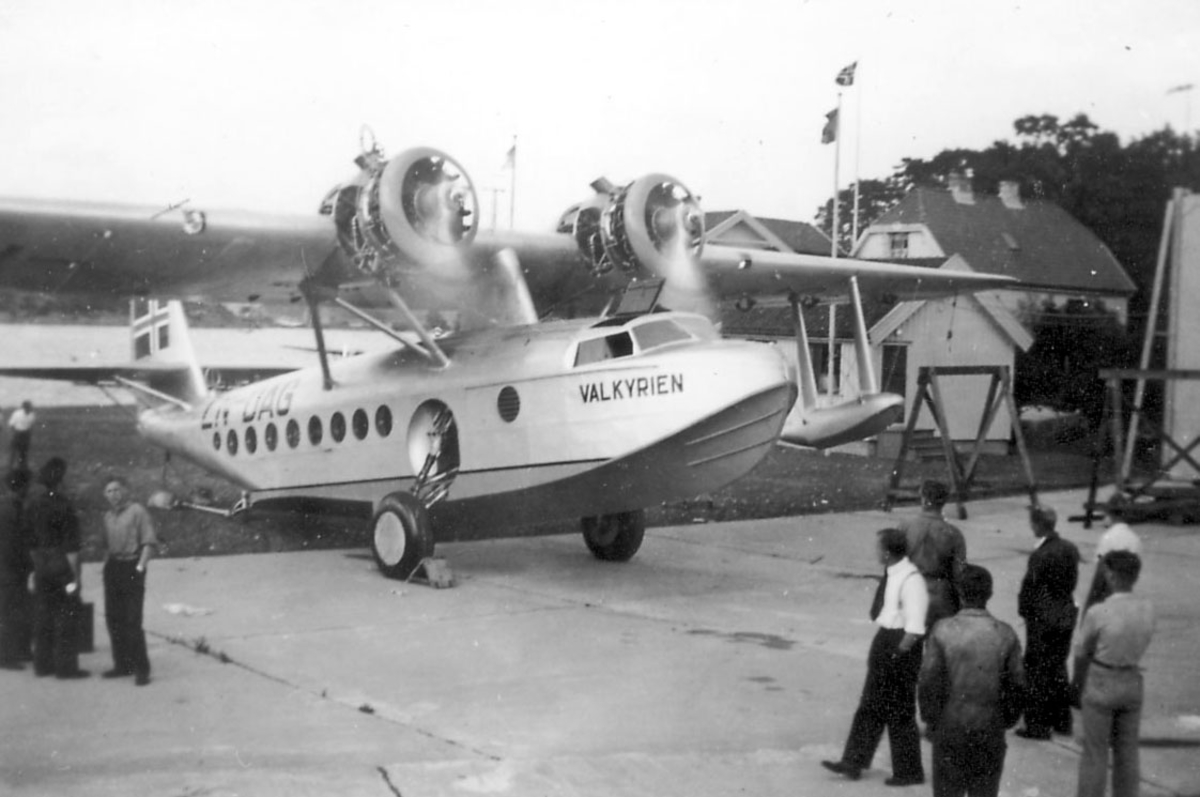 In the autumn of 1935, the board of directors of DNL decided to buy the chartered Junkers Ju 52/3m. In May 1935, DNL had employed polar aviator and technical genius Bernt Balchen as technical director and he was not convinced that the Ju 52/3m was the right aircraft for DNL. He was more US-friendly and saw better potential in American produced aircraft. He suggested that the Sikorsky S-43 amphibian would be better suited. It could land on water and land and had only two engines, compared to three in the Junkers. In 1936, DNL purchased one (LN-DAG "Valkyrien") for a trial service between Bergen, Torshavn and Reykjavik in connection with a new Pan American Airways trial route to New York. Due to lack of concessions, the Americans had to cancel the trial service for 1936.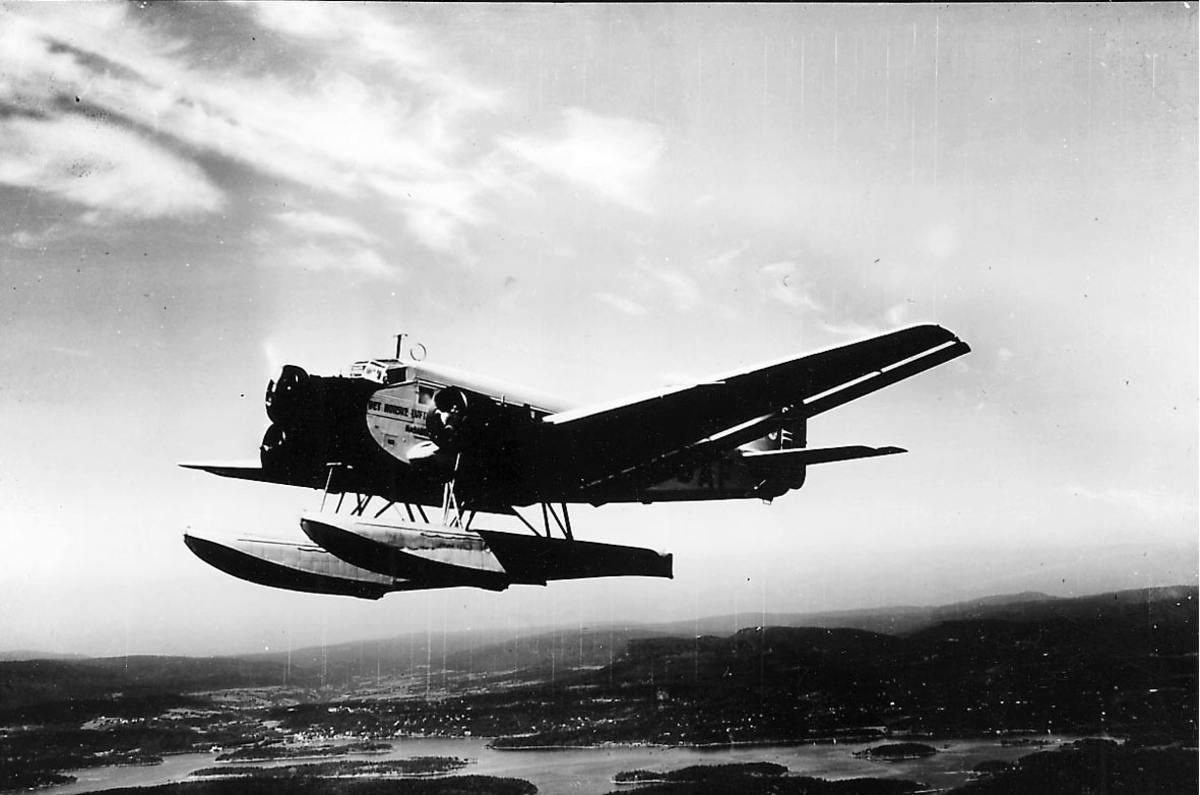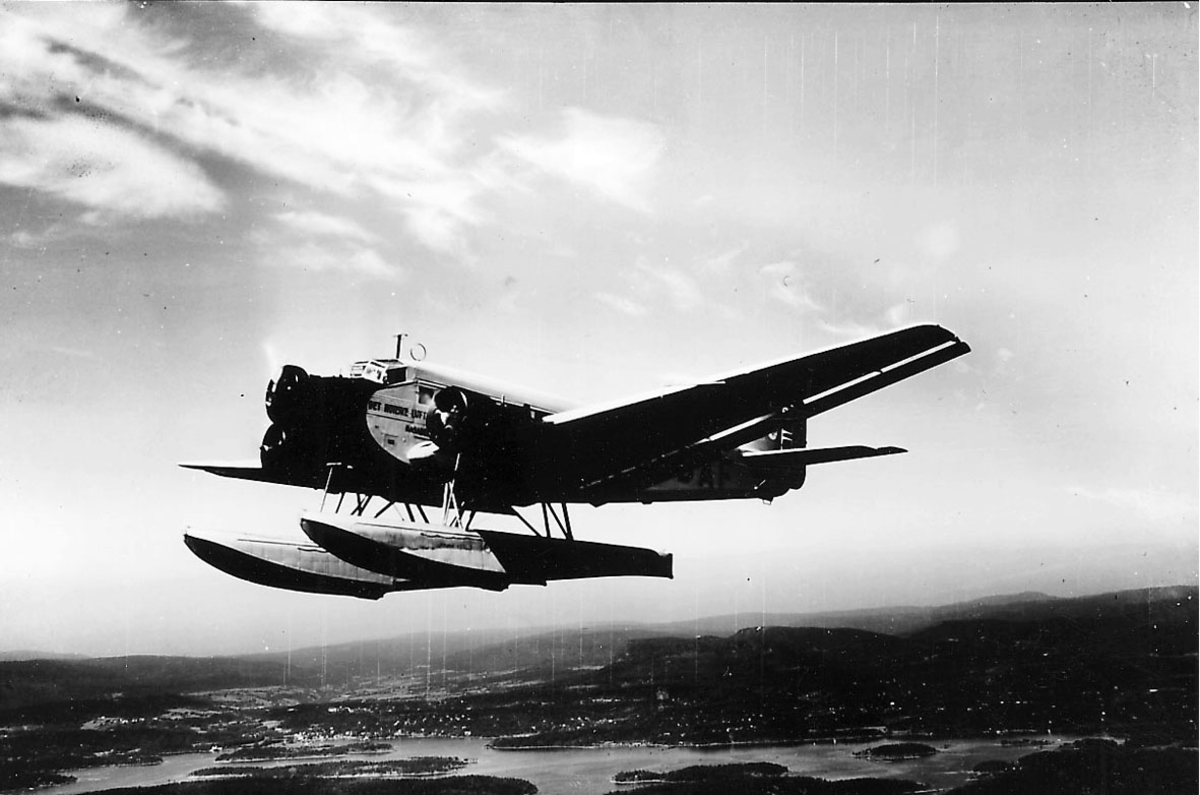 Meanwhile, DNL wanted to purchase a second Junkers Ju 52/3m for the Bergen – Tromsø service were more capacity was needed. Again, DLH and JFM helped out and again a charter/buy agreement was signed. At the beginning of June, D-AKIY "William Langanke" (c/n 5429) was withdrawn from use in Germany and put on floats at the DLH seaplane workshop at Travemünde. It was transferred to Norway and taken in service in June 1936. Here it was registered as LN-DAF "Najaden" and operated the service between Oslo and Bergen along the south coast. LN-DAE "Havørn" was transferred to the Tromsø-service, also known as "Midsummernight" service". On 16 June 1936, LN-DAE "Havørn" was tragically lost, when it flew straight into Lihesten, a mountain at the end of the Sogne Fjord. The aircraft had poor navigation aids on board and the crew had not noticed that it had come out of course due to unforeseen western winds. This combined with low clouds led to this terrible accident. The crew of four, under command of Ditlev Pentz Smith, and three passengers were all killed in what was the first fatal aviation accident in Norway. The aircraft landed on a shelf on the mountain face. A first expedition found four bodies, but attempts to reach the shelf with the main part of the aircraft and three more bodies failed. A second party was sent out two days later, coordinated by Bernt Balchen and led by mountain climbers Boye Schlytter and Henning Tønsberg, saw the successful salvage of the remaining bodies. The accident had a great impact on the Norwegians and had a profound effect on the traffic results of 1936. For a short while, the Junkers W 34 hi, LN-DAB "Ternen" took over the Tromsø route.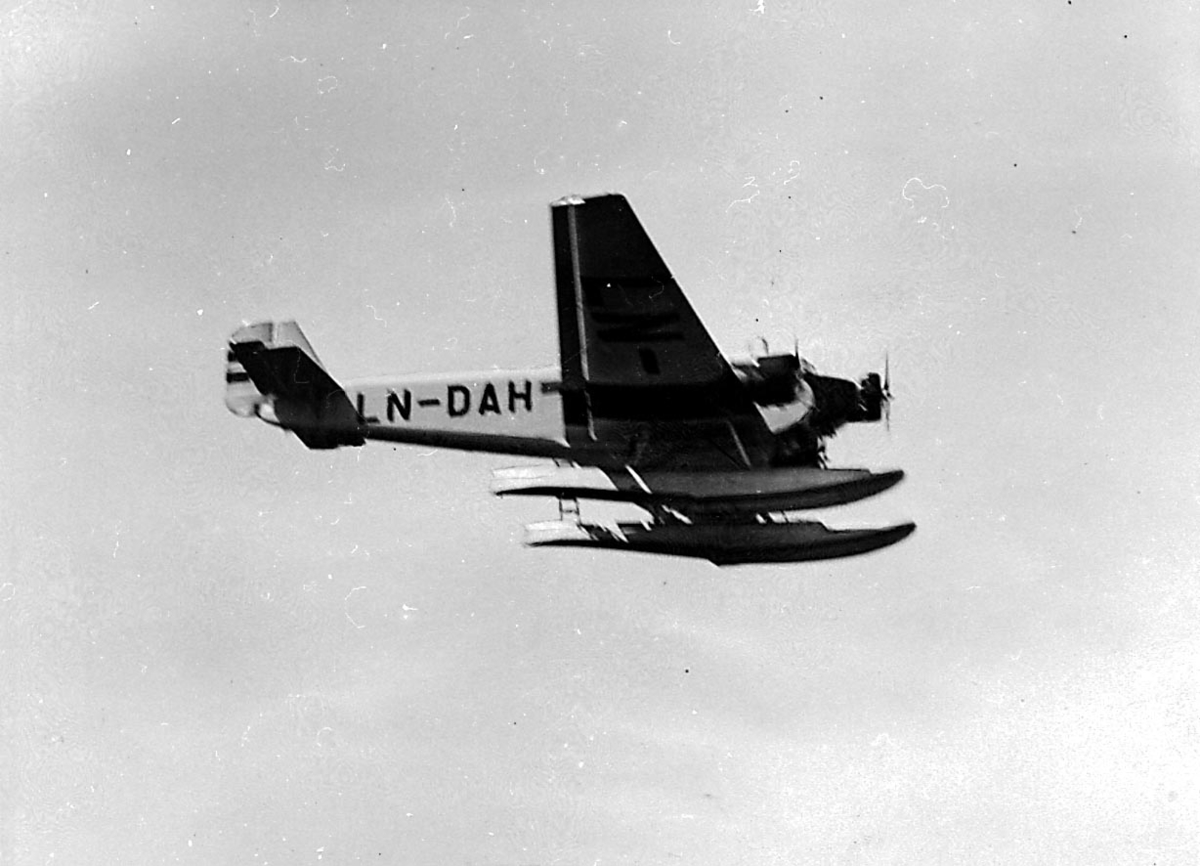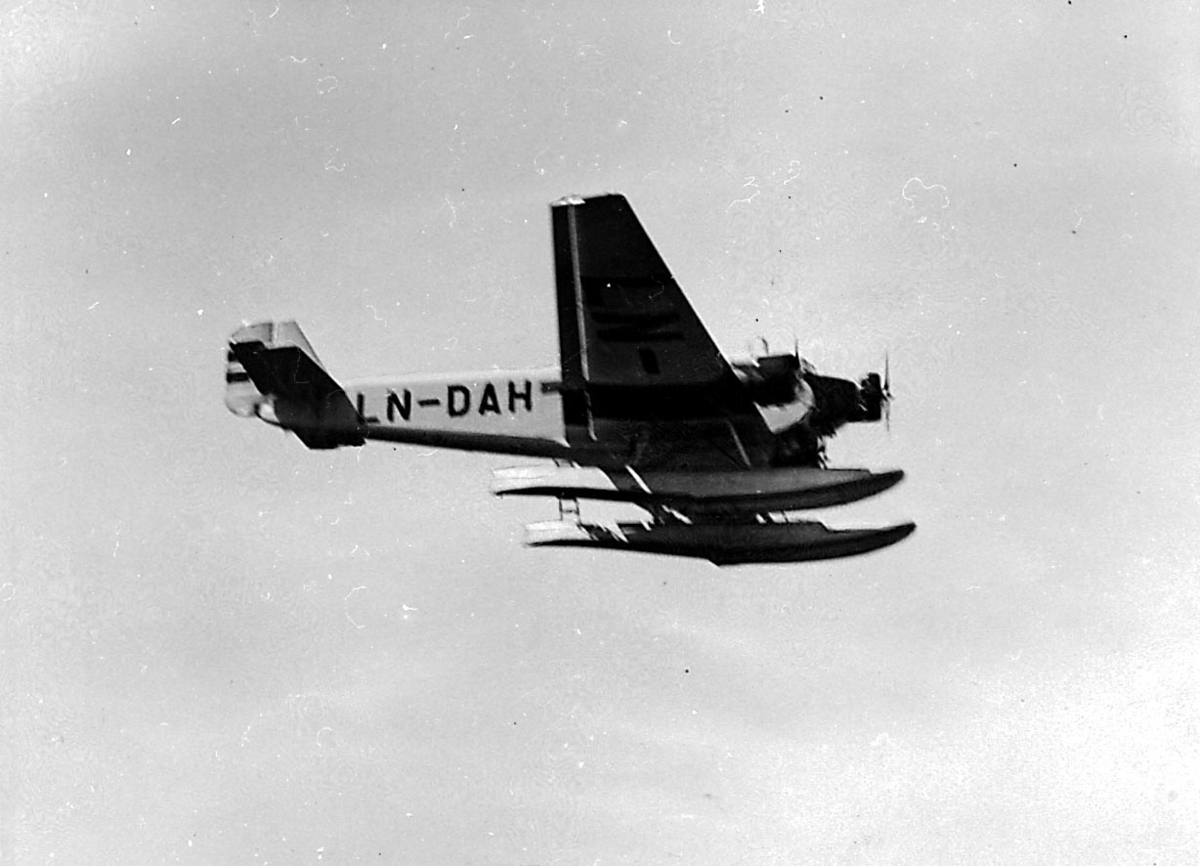 The day after the accident, the management of DNL was in contact with DLH for the rental of another aircraft, but this time the Germans wanted DNL to buy the LN-DAF "Najaden" before they wanted to supply a new Ju 52/3m. This new aircraft was registered on 1 July 1936 as LN-DAH "Falken" (former D-AQUI "Fritz Simon", c/n 5489). Again, DNL had two aircraft at its disposal.
DNL operated its services only between May and September and during the winter, the aircraft were given an overhaul.
In 1937, an extension of the services was scheduled. DNL was not interested in flying the route to Tromsø until proper navigation equipment was on place. This made it possible for DNL to operate its Junkers Ju 52/3ms on other services. In May 1937, the new land- and seaplane airport of Stavanger, Sola, was opened. Allied Airways (Gandar Dower) wanted to open an air service between Scotland and Stavanger and asked DNL to connect its service from Bergen along the coast to Oslo on this service. DNL did, but Allied Airways (Gandar Dower) did not open its service until July due to the late delivery of the aircraft. The coastal route was opened on 10 May and operated until 30 September, while the Tromsø service now was operated by smaller aircraft of daughter company Widerøe's Flyveselskap with three flights weekly in each direction.
In addition, DNL was awarded a subsidy for the first two international services: Oslo –Stockholm (the capital of Sweden), flown by the long unemployed Sikorsky S-43, LN-DAG "Valkyrien", and Oslo – Gothenburg (Sweden) – Copenhagen (Denmark) by the Junkers Ju 52/3m (LN-DAF "Najaden" and LN-DAH "Falken"). The Stockholm and Copenhagen route both connected on the coastal route to Bergen, but were not operated for more than one month.
In August, DNL took delivery of the next Junkers Ju 52/3m: LN-DAI "Hauken" (c/n 5751) in order to make it possible to fly to Tromsø again. Some improvements with regard to air safety were implemented and this made it safe for DNL to start up again. There would be a three days-a-week service from Bergen to Tromsø, while Widerøe's Flyveselskap continued to operate a three-days-weekly service between Trondheim and Tromsø.
The new Ju 52/3m had a special fuselage. It came with a special military kit, that was stored at the naval aircraft factory in Horten. In case of war, this Ju 52/3m could easily be modified in a bomber (see further below). Until then, it served a more peaceful duty as passenger transporter for DNL.
Beside the service to Tromsø, DNL of course operated the coastal route from Oslo to Bergen and also participated in a pool service with AB Aerotransport from Oslo to Gothenburg and Copenhagen.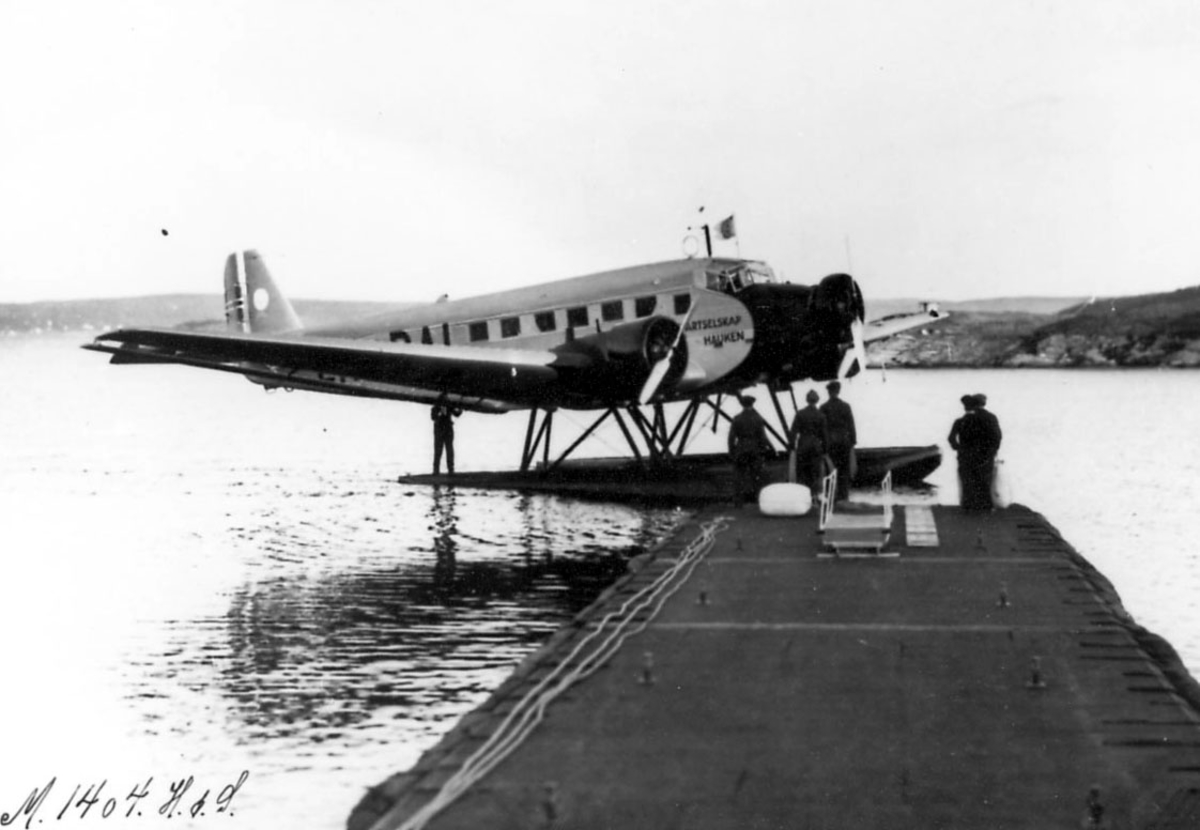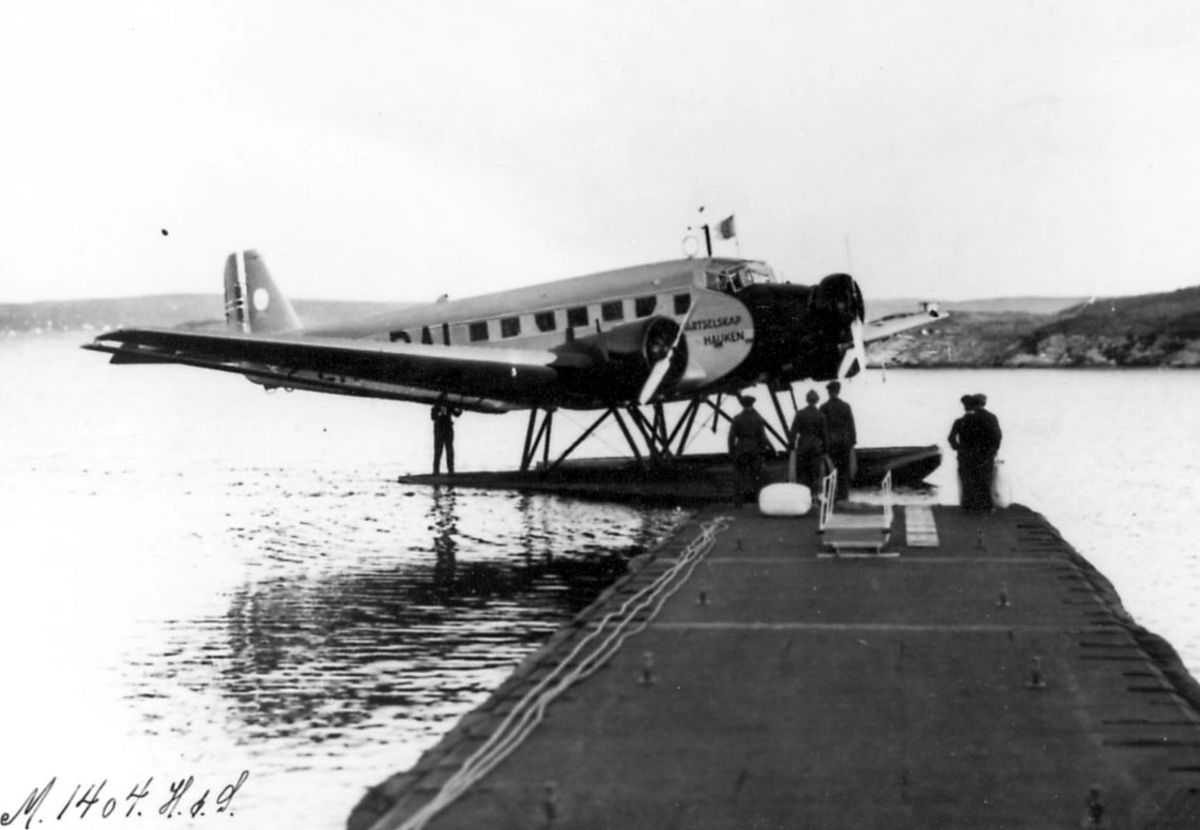 In December, the newly delivered LN-DAI "Hauken" was flown to Gothenburg and had its floats replaced by wheels. Swedish airline AB Aerotransport (ABA), had chartered the aircraft for service on the Stockholm – Turku – Helsinki route. Before the delivery, the aircraft was given an overhaul at the technical base at Malmö (Sweden) before it was flown to Bromma, the airfield of Stockholm. Until March, it flew the service in pool with Aero O/Y (Finland) and on behalf of ABA. In March, it was put on floats again and returned to DNL for an overhaul.
On 25 March 1938, first officer Ernst Roll of ABA opened with the seaplane Junkers Ju 52/3m, SE-ADR "Södermanland" the Oslo – Gothenburg – Copenhagen service. In Copenhagen, Danish airline DDL and DLH provided a connection to Hamburg and London. For the first time, Oslo had a direct connection with London. On 30 April, DNLs chief pilot Finn Lambrechts in the LN-DAI "Hauken" took over the route from Ernst Roll and operated the Copenhagen-service until the end of May. On 1 June, DLH and DDL took over responsibility for the Copenhagen-service and flew with landplanes between Oslo, Gothenburg, Copenhagen, Hamburg and London. Only Junkers Ju 52/3ms were used. In October, both ABA and for a short while DNL; took over the leg between Oslo, Gothenburg and Copenhagen.
On 4 April 1938, DNL reopened its coastal route from Oslo to Bergen and two months later, on 6 June, the "Midnightsun" service to Tromsø. On latter service, LN-DAH "Falken" was damaged when it in the harbor of Tromsø collided with a small fishing boat. The left wing and left balance rudder were slightly damaged and had to be repaired. For that reason, Finn Lambrechts returned to Bergen and on 29 June, continued to Oslo. He took over the coastal route. Unfortunately, he was involved in yet another minor accident, when during the landing at Kristiansand the left wing was pressed down into the water. A part of the aileron was thorn off and the aircraft could not continue to Oslo. The passengers were taken by train to Oslo.
In the year 1939, DNL was eager to fly on certain services all year around. On 1 June 1939, Fornebu, the new airport at Oslo, was taken in use making it possible to open services with the more economical landplanes. Despite this, DNL had to fly it domestic routes with seaplanes due to lack of airports for landplanes. Only Kristiansand and Stavanger had managed to build an airport for landplanes. Bergen and Trondheim were "working on the matter".
For DNL, the season started on 16 April, when chief pilot Finn Lambrechts opened the pool service Oslo – Gothenburg – Copenhagen with the Ju 52/3m, LN-DAI "Hauken". Until 31 May, DNL was responsible for the service, after which DDL and DLH took over. The Danish and German company used the comfortable Focke-Wulf Fw 200 Condor on the route from Oslo to London, via Gothenburg, Copenhagen and Hamburg. Meanwhile, on 1 June, DNL opened in pool with KLM Royal Dutch Airlines a daily service from Oslo via Kristiansand to Amsterdam using Douglas DC-2s. In Amsterdam, there was a connection to London and Paris. This route competed directly with the DDL/DLH route. Swedish airline ABA also opened a route on Fornebu: it operated daily with the Fokker F.XII, SE-ACZ "Värmland" the Malmö – Copenhagen – Gothenburg – Oslo service. In Malmö, the flight connected with the service to Berlin.
DNLs domestic network was also changed. On 1 June, the seaplane LN-DAI "Hauken" now opened the direct service Oslo – Bergen, flying across the inland. In Bergen, it continued to Haugesund, Stavanger and Kristiansand. Passengers, who wanted to travel from these cities to Amsterdam, could connect here with the Oslo – Kristiansand – Amsterdam service. In Bergen, Oslo citizens had a connection with the "Midnightsun" service to Tromsø.
Thus, the summer passed, but the political tension in Europe increased. On 1 September, Nazi-Germany attacked Poland and this started the Second World War. All civil aviation in Norway came to a halt and when Great Britain and France declared war on France, it was obvious that the conflict would last a while. KLM and DNL reopened pretty soon their Oslo – Amsterdam service, but the coastal services were both discontinued at the start of the conflict. The Amsterdam-service was upheld until the end of October.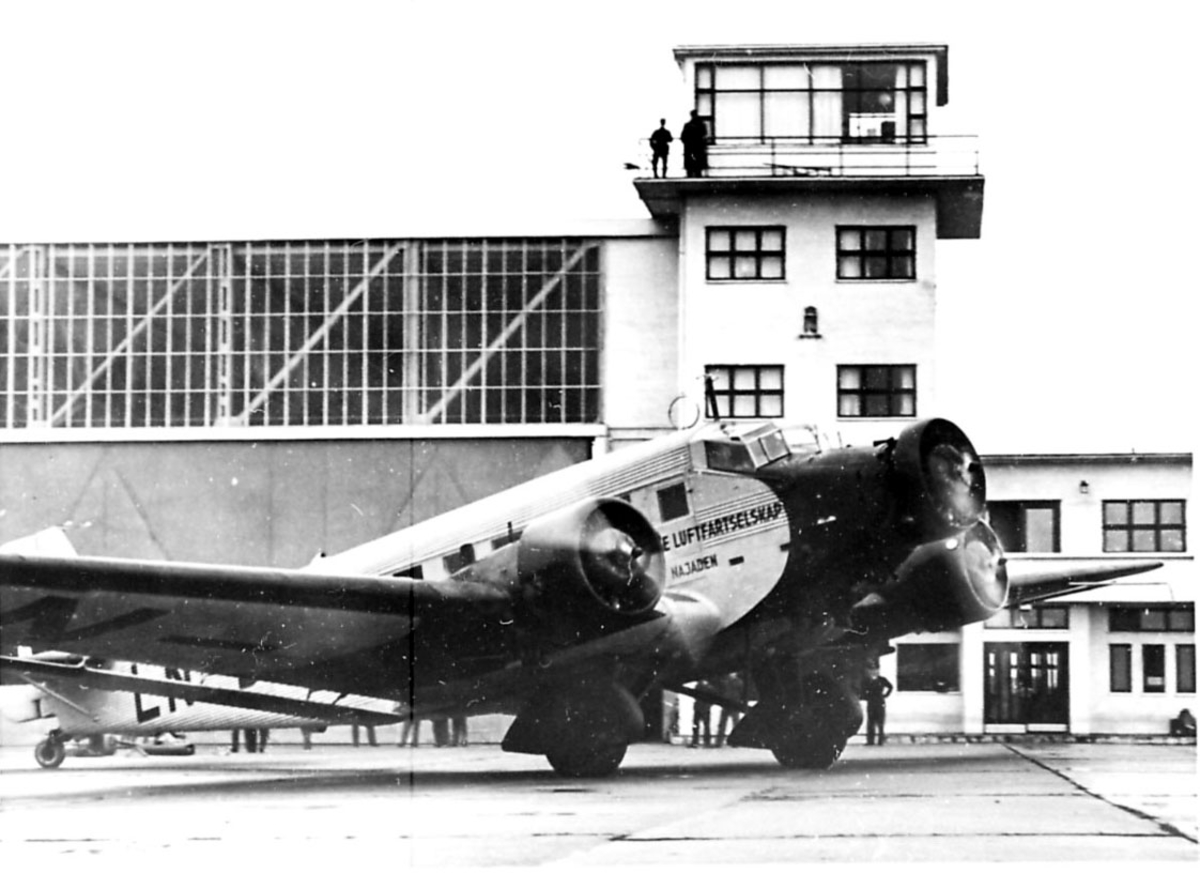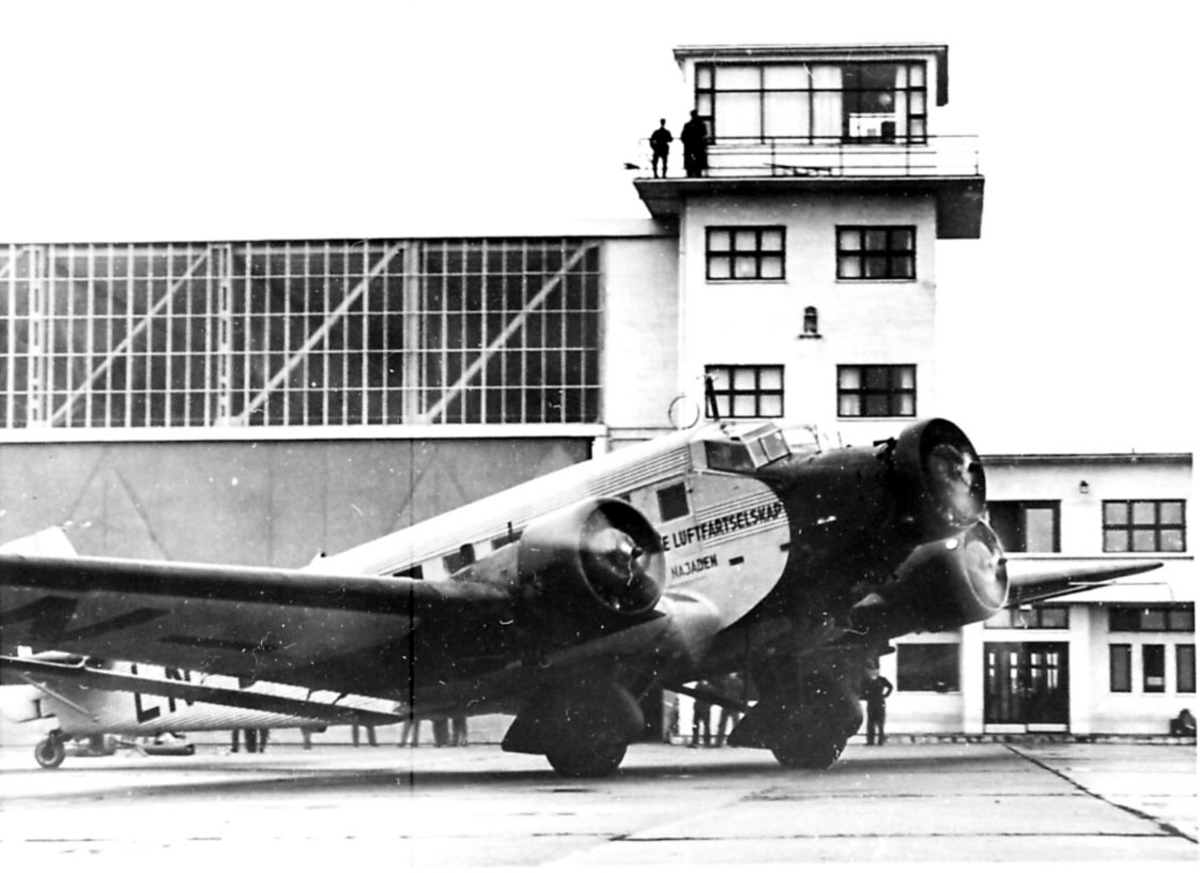 Meanwhile, DNL and ABA were eager to reopen the Oslo – Gothenburg – Copenhagen service, but ABA was not interested in flying the service. Instead, DNL suggested it could convert its seaplane LN-DAF "Najaden" and put a wheel undercarriage under it. This was done at Stavanger in October and on 18 October, captain Halvor Bjørneby, John Strandrud, Reidar Biong and Johnny Silberg started on the first flight to Copenhagen. The route was flown daily right until 8 April 1940. The departure on 9 April was cancelled as the Germans had launched their attack on Norway.
In December 1939, DNL and the Ministry of Defense reached an agreement about the charter of LN-DAI "Hauken" to the Naval Air Services Corps and the aircraft was modified into a seaplane bomber with two Browning machine guns: one in an open dorsal position, and one in a retractable "dustbin" ventral position, which could be manually winched down from the fuselage to protect the aircraft from attacks from below. It was taken on strength at the end of December and assigned the naval registration F.400, although only the number "400" was painted on the fuselage. Finn Lambrechts had been mobilized and assigned as captain on the Junkers Ju 52/3m. He made numerous flights in the Stavanger and Horten/Oslo area. He was also on duty during the famous "Altmark" affaire in February 1940 and flew reconnaissance flights above the stranded German support ship. In April, the aircraft was flown to Oslo/Gressholmen (the maintenance base for DNLs seaplanes) for an overhaul. Now, only LN-DAF "Najaden" was operating on the Oslo – Copenhagen route. DNLs last Ju 52/3m (LN-DAH "Falken") was on 9 April also on the island of Gressholmen for an overhaul. The company still had its Junkers W 34 hi, LN-DAB "Ternen", but this aircraft was out of service due to an imploded petrol tank. And thus, when the Germans attacked Norway on 9 April, they found only one aircraft, LN-DAF "Najaden", on the tarmac of Fornebu in good condition.
The Norwegian Junkers in German service
When German troops had occupied Oslo, and taken control of Fornebu and Gressholmen, they immediately impounded the Junkers-aircraft. Beside the Norwegian aircraft, they also confiscated an English Junkers Ju 52/3m (G-APAF) of British Airways Ltd. that had landed in Oslo on its scheduled flight from Stockholm to Oslo and Stavanger, where it connected with the service to England. The British aircraft was taken over by the Luftwaffe, but was in May 1944 transferred to Deutsche Lufthansa, where it became D-ANPE "Max Limbach". The British could have picked it up at Berlin-Tempelhof at the end of the war!
Also at Fornebu, was KLM Royal Dutch Airlines' Douglas DC-3, PH-ASK "Kemphaan". Since the Netherlands were still neutral, the aircraft was released on 16 April, and Evert van Dijk and the Dutch crew were allowed to return to the Netherlands without any passengers.
The British bombardment of Fornebu in April, led to minor damage to LN-DAF "Najaden" and these damages were repaired at the workshop on Gressholmen. All three Junkers Ju 52/3ms were confiscated by the Luftwaffe and were to be transferred to Germany for conversion into Luftwaffe aircraft. Soon it became obvious that domestic service within Norway were needed and Deutsche Lufthansa suggest to use the former DNL-aircraft for the job. The company suggested a service to Stavanger and Bergen and from Trondheim to Tromsø and Kirkenes. Only the service between Trondheim, Tromsø and Kirkenes was approved and aircraft put at the disposal of DLH.
This happened with the different DNL-aircraft:
LN-DAB "Ternen" was at Gressholmen with an imploded petrol tank and was undergoing an overhaul. It was never repaired again and eventually scrapped.
LN-DAF "Najaden" was confiscated at Fornebu and on 10 June transferred in parts to Gressholmen for repairs. It was painted into DLH colours and registered as D-AKIY. On 18 August, it was handed over to Luftzeuggruppe, but could be operated by DLH.
LN-DAH "Falken" – was transferred to Germany for conversion into a Luftwaffe seaplane, but eventually returned to Deutsche Lufthansa as D-AQUI "Kurt Wintgens". On 20 September, it was transferred from Travemünde, DLHs technical base for seaplanes, to Oslo. It was painted in Luftwaffe green camouflage colors, which it kept throughout its existence.
LN-DAI "Hauken" (former F.400) was converted back into a civil airliner and registered as D-AQUB "Hans Berr" for use in Norway.
On 29 July, DLH had already extended it Berlin – Copenhagen service to Oslo, operating Douglas DC-3s. DNL-personnel handled the Lufthansa-passengers and aircraft at Fornebu.
Between 19 and 25 August, the Junkers Ju 52/3m, D-AKIY (ex LN-DAF) was used on a reconnaissance flight to the north of Norway with a mixed German-Norwegian crew: DNL chief pilot Finn Lambrechts, flight engineer Johnny Silberg, DNL traffic manager Oddvar Steen, DLH-pilot Von Engel, DLH-flight engineer Katz and DLHs representative in Norway Dr. Fritz Ulrich Schmidt-Ott were on board. It is important to tell that the Norwegians were given the clearance from the Norwegian government-in-exile to fly these routes. It was a good way to keep an eye on German activities in Norway.
Both D-AQUI (ex LN-DAH) and D-AQUB (ex LN-DAI) were used on the service between Trondheim and Tromsø, via Bodø, Narvik and Harstad. In addition, DLH extended a few times a week the service to Kirkenes. Later, D-AKIY arrived as well and was put into service. The crews were mixed German-Norwegian. For the first time, the route was kept open during the winter months. Only the route between Tromsø and Kirkenes was temporary closed. The Norwegians never believed this could be done and of course the Germans had problems keeping the route open, but nevertheless managed.
During the winter of 1940-41, the Norwegian government-in-exile urged civil pilots in Norway to escape to Sweden and get to Great Britain to join the Allied air force. The disappearance of the Norwegian DNL-pilots led to a break in the co-operation between DLH and DNL. From March 1941, DLH operated the route solely and all Norwegian personnel was banned from Fornebu (as from Match 1941) and Gressholmen (as from October 1941). DLH operated the Northern-Norway route until May 1945, although the extension to Kirkenes was closed down before due to the advancing Russian troops.
At the end of the Second World War (8 May 1945), numerous Luftwaffe aircraft were stationed in Norway and the country was assigned 46 German aircraft. The rest was destroyed and buried by Allied order. Among these were 22 Junkers Ju 52/3ms:
10 seaplanes were found at Horten naval base and of these eight were offered to Norges Luftfartsstyre (NL, see below) and also included D-AKIY/LN-DAF "Najaden" and D-AQUI/LN-DAH "Falken";
3 landplanes at Bardufoss, where offered to the Royal Norwegian Air Forces;
3 landplanes at Oslo/Fornebu in airworthy condition;
4 landplanes at Fornebu and Gardermoen in non-airworthy condition and they were scrapped;
2 aircraft were missing and probably by accident destroyed by RAF-personnel or flown over to Great Britain.
In November 1943, the Norwegian government-in-exile in London established the Norsk Luftfartsstyre (Norwegian Air Board). Its object was to prepare civil aviation in Norway after the war. DNLs concession expired on 1 May 1945, and thus there was no official concession holder anymore. On 9 March 1945, the government had decided to let NL run all air services after the liberation of Norway. During 1945, Norway was under state of emergency and all aviation was controlled by the State. After the governments return to Norway and up to 12 November 1945, the Royal Norwegian Air Forces and NL co-operated on a number of air services. They flew from Oslo to Tromsø, Kirkenes, Trondheim, London, Edinburgh, Copenhagen, Stockholm and Amsterdam. The international services were upheld until 10 February 1945 and Catalina flying boats, Junkers Ju 52/3ms, Douglas C-47/DC-3, Lockheed Lodestars and Noorduyn Norseman aircraft were operated on the services. In 1945 1,202,00 km was flown and 18,533 civil passengers plus a similar number of military personal were transported. In addition, the aircraft took along 1,816,00 kg freight and 405,000 kg of mail and packages. In January 1946, a new "Det Norske Luftfartselskap A/S" was formed and this company took over all civil air routes.
During the Second World War, on 1 March 1943, D-AQUB "Hans Berr" was lost during a landing accident near the Trondheim/Hommelvik seaplane base. The other two Ju 52/3ms were not delivered back to the "old" DNL, but instead given to the new DNL. LN-DAF "Najaden" became LN-KAG "Veslefrikk", while LN-DAH "Falken" became LN-KAF "Askeladden". Latter aircraft was overhauled and received the fuselage of 130714. In 1957, it was sold to Transportes Aeros Orientales S.A. in Equador, sold to the USA and later sold to new Deutsche Lufthansa to be rebuilt as D-AQUI.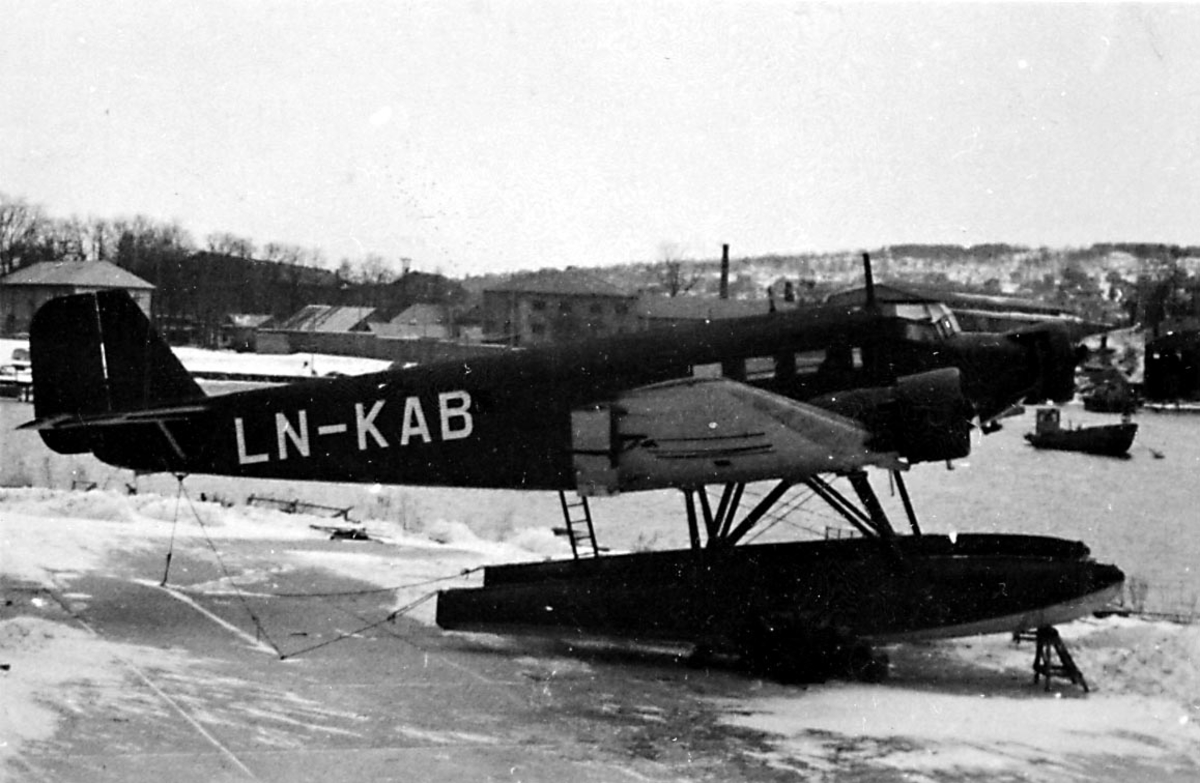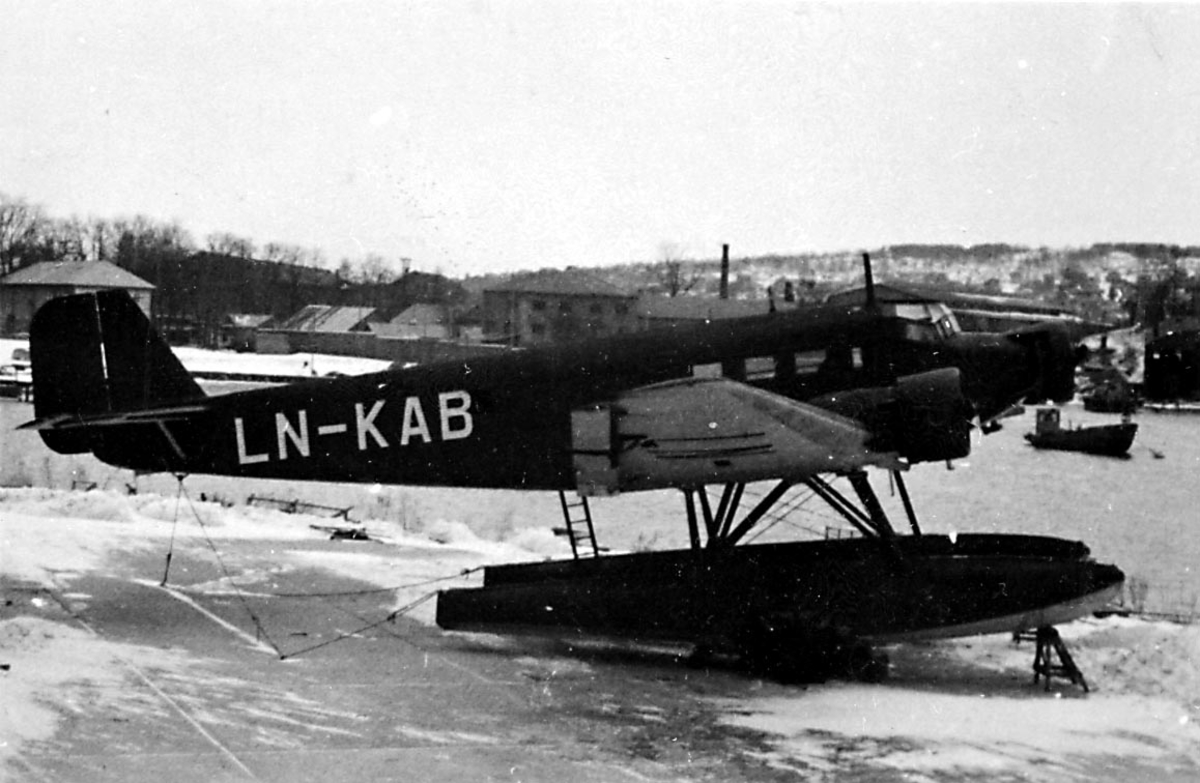 Other post-war civil Junkers Ju 52/3ms in Norway:
LN-KAB (c/n 7229), been in Norway between 1945 and 1947, but not used.
LN-KAD (c/n 130712), been in Norway between 1945 and 1948, but not used.
LN-KAE "Pål" (c/n 130704), CofA 27 June 1946, operated by DNL/SAS.
LN-KAF, see above
LN-KAG, see above
LN-KAH (c/n 7215), been in Norway 1945-1956, but not used. Fuselage possibly used as Kindergarten!
LN-KAI "Peik" (c/n 3257), taken over by DNL on 17 July 1946, operated by DNL/SAS, 25 May 1948 wfu.
LN-LAB "-" (c/n 6048), during the war used by "Reichskommissar" Joseph Terboven as personal aircraft (N9+DA), taken over by Norwegian government 14 July 1945, operated by Royal Norwegian Air Forces between 22 September 1945 and 13 February 1946, taken over by DNL in February 1946, 22 May 1946 crashed right after take-off from Fornebu and 3 August 1946 cancelled.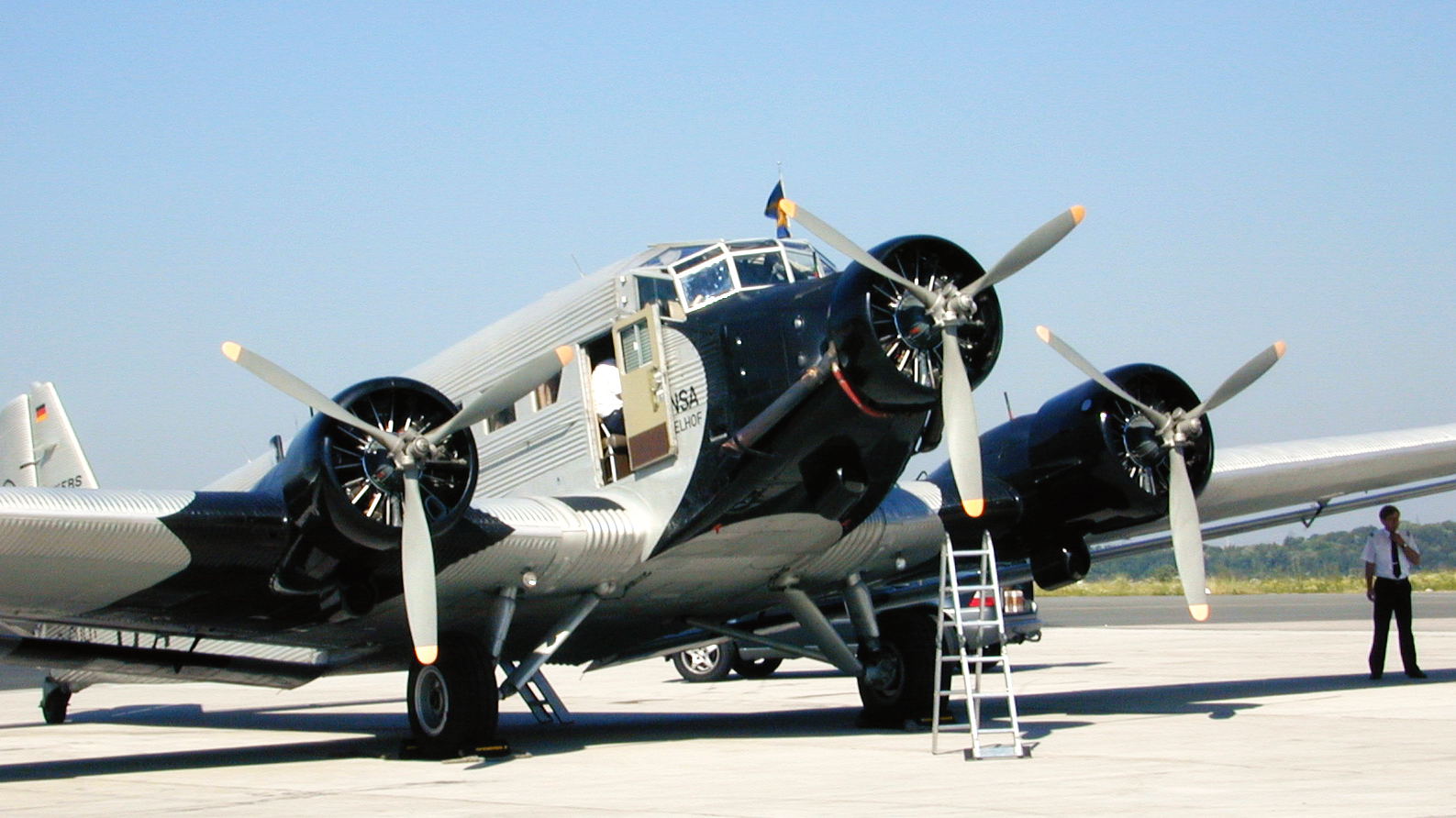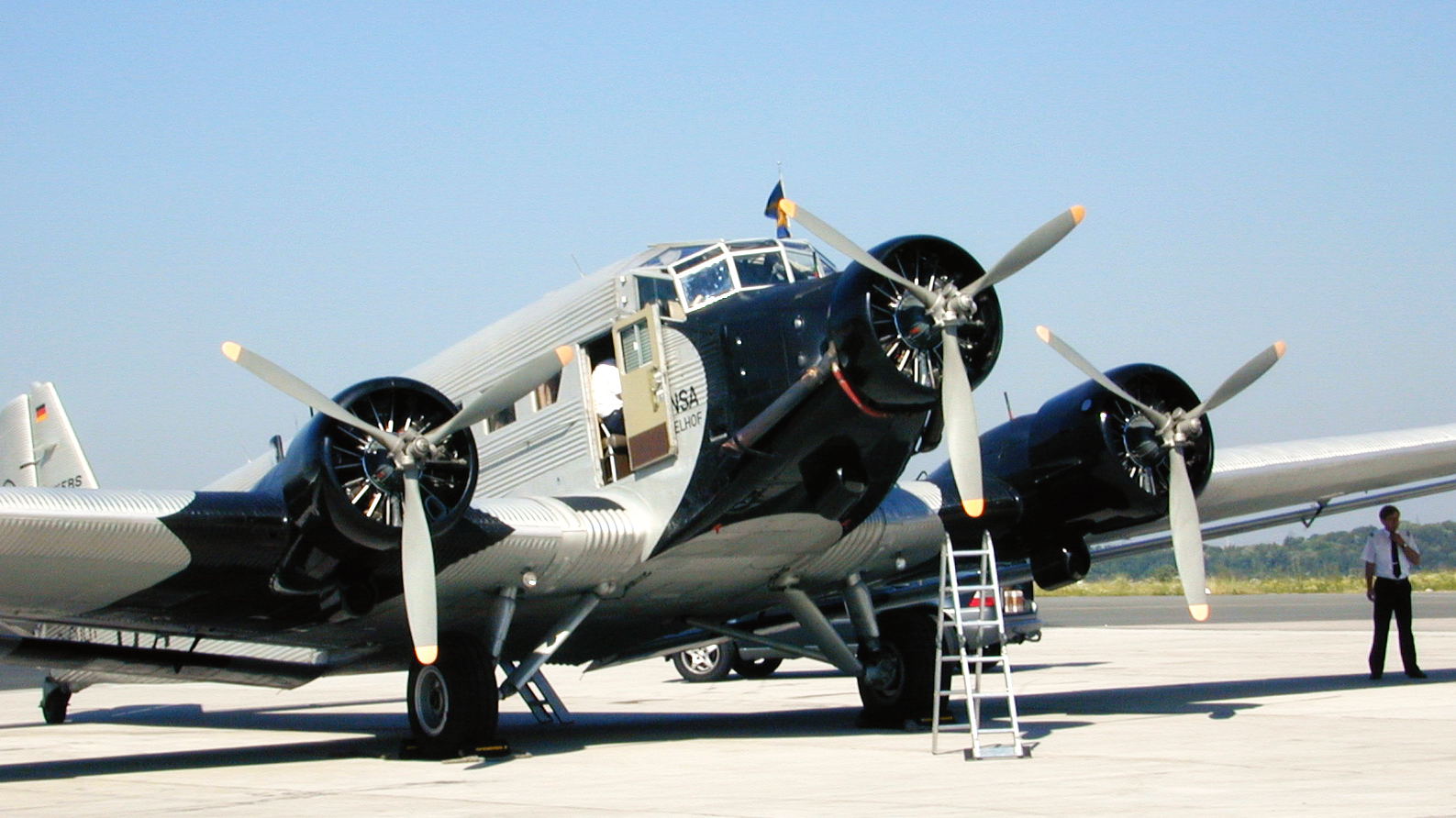 D-AQUI as in service with "Deutsche Lufthansa Stiftung" (via Wikipedia)
All other images via www.digitalmuseum.no
Suggested books on the subject: