By: Rob Mulder
For: www.europeanairlines.no
During the Twenties and Thirties of the last century Norwegian pilots imported numerous German and later English aircraft. Among one of the most popular aircraft were the seaplanes from the German aircraft factory Luft-Fahrzeug-Gesellschaft mit beschränkter Haftung – LFG from Stralsund-Seddin. Especially the V 13/V 130 turned out to be a popular aircraft in Norway and here we are looking a little bit closer to the aircraft used.
On 30 April 1908 the LFG-company was founded with the help of the Motorluftschiff–Studiengesellschaft, Berlin (the Motorized Air Ship Study company). Co-owner was the airship constructor Prof August von Parseval and the LFG started with the construction of airships in Bitterfeld near Halle (Germany). In 1912 the first aircraft were designed and built. During the Great War (1914-1918) the company designed and built numerous fighters, reconnaissance aircraft and trainers and built, among other models, under licence the Albatros B I, B IIa, C I, C X and the Friedrichshafen FF 43 and FF 49C. After the Great War it could barely keep its head up and was several times reorganised. The company's first products were the V 1 and V 2. Both were modified Friedrichshafen FF 49.
Next were the flying boats V 3 and V 3a Susanne (1921) followed by the V 8 Bärbel. The next model turned out to be more successful. The V 13 Strela was a single-engine twin-float seaplane, first introduced in 1921. It was a three-bay strut and wire-braced biplane of mixed construction and almost equal span. The pilot's open cockpit was immediately aft of the engine, and behind this was a four-seat passenger cabin. The original engine was a 185 hp BMW IIIa, but later the 200/220 hp Benz Bz IV and the 260 hp Mercedes D IVa water-cooled engines were installed as well. The first aircraft operated over the LFG's own network and especially on the Hamburg – Stettin – Danzig and Stettin – Swinemünde – Stralsund air routes. In 1924 LFG began production of the V 130 Strela-Land, which was exactly the same as the V 13 but had a land undercarriage. This aircraft too operated on LFG's air routes and several were delivered to the Luftverkehr Pommern GmbH. (1)
Norsk Lufttrafik A/S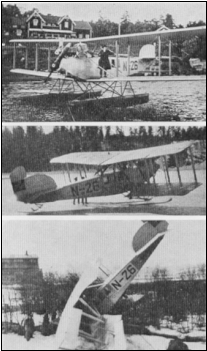 The first person interested to import the LFG V 13 was Leif Lier. This popular Norwegian pilot started as mechanic in the Army's Air Force at Kjeller (an airfield just north of Oslo). He joined Tancred Ibsen on his famous flight to København (Copenhagen, Denmark) in April 1919. In 1925 he formed Norsk Lufttrafik A/S (Norwegian Air Traffic Ltd) and on 5 August 1925 applied for a concession for joy ride and charter flights in Norway. The first aircraft imported was the LVG V 13, WNr 90 (WNr = Werknummer, the German word for constructor's number) ex-S-AOAA. This particular aircraft was bought and on 6 October 1923 registered as S-AOAA on the name of Mustad & Sønn, Göteborg (Sweden). In July 1924 it was sold to Pauli & Torell, Göteborg. On 31 July 1925 it received a temporary Norwegian registration (N-26) for its transfer flight from Göteborg to Oslo. On 29 August 1925 it was registered as a seaplane with the designation LFG V 13 Strela-See, N-26. The seaplane was used on numerous pleasure flights throughout southern Norway. Well-known is the story of a flight with the LFG V 13 Strela, N-26 from Lake Mjøsa, where Leif Lier took up a dog! During the flight the dog felt that this was not his best hour and panicked. As a result he bailed out and fell to the ground from a height of 300 metres. The story tells us not whether the dog survived.
By February 1926 N-26 was modified into a landplane and as such viewed by premierløitnant (1st lieutenant) Thomas Hartvig Gulliksen and T Sundt. On 3 March 1926 a CoA was issued for the landplane version and now called V130 Strela-Land. In April the wheels were replaced by skies and the LFG V 130 Strela made joy flights from the winter resort of Geilo. But April also saw the end of this little aircraft. The Norwegian polar explorer Roald Amundsen was to arrive with the airship Nobile N.1, N-1 from Italy and the Norwegian newspaper Aftenposten had hired Leif Lier's LFG V 130 Strela, N-26 and intended to fly meet the airship at the entrance of the Oslo Fjord and follow it until it moored at Ekeberg. On 14 April 1926 Aftenposten was granted permission from the Forsvarsdepartement (Ministry of Defence) for the flight and to make pictures. Leif Lier and his mechanics had converted the aircraft to a floatplane in order to be able to take off from the wet and snow-covered Kjeller airstrip. The photographer Møllerstad boarded the aircraft and Leif Lier started the 225 hp water-cooled Benz-engine. He believed that the aircraft could take off, but it turned out that the aircraft was too heavy. He tried to pull the aircraft up, but in the process he hit some treetops and landed noose down. The passengers (Møllerstad and the mechanic) and Leif Lier were unharmed and could walk away from the accident. The Army's Air Force offered a new aircraft and the pictures of the airship could be made. Unfortunately for the LFG V 13 Strela, N-26 its time was over. It was destroyed beyond repair and cancelled later that year.
Leif Lier liked the aircraft and purchased a new LFG V 130 Strela for his airline company Norsk Lufttrafikk A/S. It was registered as N-28 on 9 April 1927 and made his debut in a Norwegian movie called "Madame besøker Oslo" (Madame visits Oslo).
But also this aircraft was not given a long life. On 2 September (or 9 September) 1927 it crashed on the island of Bygdøy in Oslo. It was not until February 1929 that it was cancelled from the Air Register.
Vestlandske Flyveselskap A/S
This company was on 26 March 1928 formed as the A/S Norsk Flyveselskap, but at the time of the application for a temporary CoA (on 23 February 1928 the registration N-29 was reserved) it was said that the company would be named Vestlandske Flyveselskap. It intended to import a LFG V 130 Strela and had bought one aircraft from the Flughof Flugzeugmaterial GmbH at Berlin-Johannisthal. It stood ready in Warnemünde, but Norsk Flyveseslskap A/S cancelled the contract in favour of a obsolete Fairey III, that could be purchased at more favourable terms.
On 8 July 1927 Captain Wilhelm Meisterlin formed Norsk Luftruter A/S. The captain had been active in aviation since 1918. He had taken the ill-fated Handley Page O/400, G-EAKE to Norway and tried to open air service between Kristiania (now Oslo) and København with flying boats. In 1927 he had become general agent for Deutsche Luft Hansa AG – DLH that opened an air service between Norway and Germany. Latter service was inaugurated 18 July 1927 with a Dornier Wal. Already in the winter of 1927-28 Captain W Meisterlin studied the possibilities to inaugurate an air service along the south coast of Norway to Flekkefjord and from Oslo also to Lillehammer (some 160 km north of Oslo). It was awarded this concession in July 1928, but due to lack of suitable aircraft the service was never inaugurated.
New plans were drawn up, but never materialized.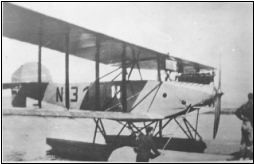 Norsk Luftruter A/S imported two LFG V 13 Strela's. In April 1928 NLR was negotiating with Aero-Sport in Germany for delivery of a used LFG V 130 Strela or a new one (for 12,500 Goldmark). In addition an offer was made for the brand new LFG V 101 Jasmund for 25,000 Goldmark. Latter was a development of the LFG V 20 Arkona. But NLR decided to purchase the used LFG V 130 Strela, the D160 (WNr 85) powered by one Benz Bz IV engine. It had been transferred in February 1928 to Aero Sport GmbH and in May 1928 sold for 8,000 Goldmark to NLR. It received a temporary CoA on 25 June 1928 (N-31) and was picked up at Warnemünde by the Norwegian pilot Christian Hellesen and the German DLH-mechanic Ulbricht. It arrived at Kjeller airfield on 28 June 1928 after a flight from Warnemünde via København and Göteborg to Oslo. It was converted to seaplane (V 13 Strela) at Kjeller airfield and test flown there and on 6 July 1928 it was officially registered to Norske Luftruter A/S. It was first used for pleasure flights from its base in Oslo, Gressholmen. A minor damaged was registered on 30 August, when trying to avoid collision with a small vessel the seaplane landed rough on the sea and damaged its floats. In 1928 the LFG V 13 Strela, N-31 made numerous other flights, among them a flight from Oslo via Trondheim to Steinkjer, Namsos and Svolvær on the Lofoten islands, from where they returned via Namsos, Folla and Trondheim. In August flights were made to Lillehammer and surroundings to test the flight conditions in this area for a scheduled Oslo – Lillehammer air service.
On 3 September, Christian Hellesen and captain Wilhelm Meisterlin departed from Oslo/Gressholmen for a promotion flight to Arendal, Kristiansand, Flekkefjord and Stavanger. The captain was looking for support for his planned air services. They arrived in Stavanger on 5 September and returned to Oslo after meetings with local politicians.
On 13 October Christian Hellesen took the LFG V 130 Strela, N-31 for a flight to Germany. The N-31 was to be on display and make pleasure flights during the Internationale Luftfahrt Ausstellung – ILA (the International Aviation Fair) in Berlin. After he non-dramatic forced landing in Sweden he arrived at Warnemünde, where a wheel undercarriage was installed. On 20 October he continued towards Berlin, but due to bad weather he had to make a forced landing near Oranienburg and during the landing the aircraft tipped over on its noose and brook its propeller. After repairs the aircraft continued to Berlin/Tempelhof, where it stayed until 2 November. Back in Warnemünde the aircraft was overhauled and given a new rudder. On 7 November it departed for Oslo where it arrived the next day.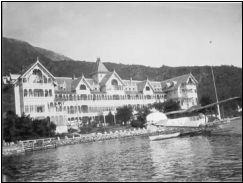 Meanwhile, NLR was looking for a second seaplane and could at favourable terms take over the LFG V 130 Strela, D161 (WNr 88). This aircraft was bought by Aero-Sport GmbH in Warnemünde and sold to NLR for 16,500 Goldmark. It had received temporary CoA for its flight to Norway and was taken by the Norwegian lieutenant Feiring to Norway around 27 May. It was registered in Norway on 7 June 1929 as N-32 (3). During the summer of 1929 Halvor Bjørneby flew the N-31 and Oddvar Steen the N-32. Between 27 July and 2 August the LFG V 13 Strela, N-32 made a trial flight from Oslo via Fagernes to Eidsbugarden, Tyin and Bygdin and back. The flying conditions were difficult, as due the thin air in the mountains the seaplane needed a long take-off run. The new aircraft was basically used for pleasure flight throughout southern Norway, while N-31 mainly operated out of Oslo.
On 21 August both aircraft departed from Oslo for a new trial flight to Kristiansand and due to heavy load onboard the aircraft they were not in the air until they reached Drøbak (some 15 km away from Oslo). Some pleasure flights with nobilities were made, but bad weather prevented Captain Meisterlin to make more flights. A new airmail service was planned between Kristiansand and the Danish port of Frederikshavn, but again nothing concrete came out of this either. They continued west towards Stavanger, but during the landing at Byglandsfjord (24 August) the LFG V 13 Strela, N-32 with Oddvar Steen was smashed on the water by the wind. The floats were heavily damaged and also the engine came into the water. They aircraft had to be taken on land and transported by train back to Oslo. Four days later N-31 returned to Oslo as well. It would take until July the following year before the aircraft had its CoA back again and could be used for pleasure and taxi flights.
In September 1929 an inspection by Oberst (Major) Thomas Hartvig Gulliksen on behalf of the Luftfartsråd (the Norwegian Air Council) led to the withdrawal of the CoA of the LFG V 13 Strela, N-31. It had to be overhauled completely.
A great disappointment for NLR was the denial of a contract for the airmail service Oslo – Göteborg – København that was awarded to Halle & Petersen – H&P (the general agent for De Havilland in Norway). On 14 March NLR and on 18 April H&P applied for the concession. It was given to H&P. Captain Meisterlin had suggested operating the air service with at least three aircraft, while H&P suggested two. NLR had already reserved two new registrations in the air register (N-33 and N-34) for new aircraft, but the air council decided that the LFG V 13 Strela's were too old to be able to operate the airmail service. The H&P-company said it would operate the service with landplanes and ordered De Havilland DH.60 Moths. It also received the concession in 1930, but in 1931 the Army took over the airmail service.
In stead NLR operated a trial flight Oslo – Vasser (in the Oslo Fjord) – Oslo and Oslo – Fagerstrand – Vasser – Oslo with Viggo Widerøe as pilot. Captain Meisterlin said that such an air service would be of interest for rich Norwegian living in Oslo, who had their summerhouse in this area. In August a flight to the mountains near Hovden was made and also a trial flight Oslo – Notodden – Brevik – Langesund – Frederiksvern – Larvik – Sandefjord – Tønsberg – Oslo. In 1930 this flight was repeated as Captain Meisterlin hoped to be able open some sort of seasonal air route across the Oslo fjord.
Meanwhile, the LFG V 13 Strela, N-31 had on 22 July 1930 a severely damaged at Steilene Fyr (a lighthouse in the Oslo Fjord). It had tried to take off twice, but suddenly the starboard float took in water. The pilot Erik Storm taxied to the shores and filled the other float in order to stabilize the seaplane. It had to be lifted out of the water and taken to Horten for repairs. The damage was so big that it was decided to transport it to Germany for repairs. It did not return until March 1931.
In September 1930 the new NLR-pilot Erik Storm came to Notodden for pleasure flights, but due to the late arrival of the aircraft no flights on the two busiest days could be made and the organisers of the local fair refused to pay NLR. Captain Meisterlin promised to return in November, but again engine problems led to the cancellations of the pleasure flights.
In the autumn of 1930 it was obvious that the N-32 became worn out. Captain J E Höver (on behalf of the Forsvarsdepartement) made an unannounced inspection of the seaplane on 16 August and found numerous defects. In order to be able to do the repairs, the seaplane was flown to Horten to the Marinens Flyvebaatfabrik (the navy's flying boat factory) for repairs. After a week she was back in business and flew straight to Drammen where she made 26 pleasure flights carrying a total of 69 passengers. But the seaplane was again damaged at her floats again and needed repair.
In 1931 the LFG V 13 Strela, N-31 was barely used. It returned in March from Germany after repairs, but was not used anymore. In July it was sold to Mr O Chr Vinness in Drammen, who acted on behalf of a consortium that was to prepare the formation of the Sandefjord-based Grannholmen Flyveselskap A/S (Grannholmen Flying Company Ltd). It was sold for 6,000 Kroner and one month later sold to A/S Rundflyvning (Pleasure Flights A/S) in Drammen. This company used it sporadically for pleasure flights and re-registered it in July 1932 as LN-ABE. They wanted to sell the seaplane to Fly A/S (Fly Ltd), but the CoA was not valid anymore and thus not taken up. By December 1933 it was cancelled from the Air Register.
Thus, NLR had only its LFG V 13 Strela, N-32 left to fly with! Between 23 June and 4 September 1931 Christian Hellesen flew the seaplane to the west of Norway in an attempt to get the seaplane sold. NLR actually did not want to fly that much in this area, but while flying in the area Christian Hellesen made a long and detailed report about the landing possibilities in the Hardanger Fjord, the Sogne Fjord and the Nord Fjord. He visited 32 places (see picture of the N-32 in front of the Kvikne's Hotel in Balestrand, Sogne Fjord), but the worst was that the seaplane was damaged near Norheimsund and was put on the pier. The cost for this operation and repair were NOK 1,267.85 and this was money NLR certainly did not have. The whole trip cost NOK 3,601.63 and the earnings were too little to cover the costs. The loss was NOK 955.78. Captain Meisterlin wanted the seaplane to return to Oslo or Bergen for storage, but Christian Hellesen made more pleasure flights in Stavanger and it was not until November that he returned to Oslo.
On 14 January 1932 Oddvar Steen inspected the seaplane. He concluded that the seaplane was not airworthy and had to undergo a major overhaul. The fuselage was damaged, the rudder was loose and many of the struts had to be replaced. Christian Hellesen had to do the repairs for Captain Meisterlin in order to pay back the debt he had. During an inspection by kapten (Captain) Klingenberg (of the Forsvarsdepartement) it was put forward to Captain Meisterlin: either repair the aircraft or cancel it from the register. Since NLR did not have any money for the repairs it was cancelled in September 1932. The remains of the seaplane were burned.
With this fire the last LFG V 13 Strela of NLR was gone forever.
Christian Hellesen
The last LFG V 103 Strela imported to Norway was the Werknummer 95. It had been built in 1925, registered in Germany as D588 Kolberg and used by the Luftverkehr Pommern GmbH. In 1927 it was rebuilt as V 13 and registered to Deutsche Luft Hansa AG. It arrived in Horten on 14 May 1929 as D588 and was two weeks later (31 May) registered to Christian Hellesen as N-39. Just 23 days later it made a crash near Asker (just 20 km south of Oslo) and had to be repaired at Gressholmen. If this was not enough it was damaged again in Sandnessjøen (province of Nordland), but could be repaired again. A new incident occurred on 13 October 1929 in Kristiansund (province of Møre & Romsdal) and now the aircraft had to be send to Germany for repairs.  One day later Christian Hellesen informed the Luftfartsråd (air council) that he would transfer the aircraft to the Oslo Prospektkortfabrikk K. Harstad (the Souvenir Card Factory K Harstad in Oslo). On 14 November its CoA was transferred to P O Moldenhauer and Karl Harstad (owners of the factory), who planned to use it for a new airline company under foundation: Foto-Fly A/S (Photograph-Flying Ltd). The aircraft was still in Germany and Foto-Fly A/S did not use the aircraft at all. In stead they tried to sell her to the Nordenfjeldske Flyveruter A/S, but since the seaplane was not ready in time (summer 1930) it did not return to Norway anymore. On 29 May 1932 it was cancelled.
A little bit outside the article, but beside the above mentioned LFG V 13/V 130 Strela's two more LFG-aircraft were imported to Norway. They were:
LN-ABR        LFG V.59 WNr 120                          Build: 1926
PI: D981
20.05.33                Registered to AS Fly, Oslo. Named: Nippetipp.
Autumn .35         Withdrawn from use and broken up.
30.03.36                Cancelled.
LN-ABS (1)   LFG V.59 WNr 118                          Build: 1926
PI: D918
31.07.33                Registered to AS Fly, Oslo. Named: Wanda.
Autumn .35         Withdrawn from use and broken up.
31.05.35                                Cancelled.
(1)                 This information comes from the book "European Transport Aircraft" by John Stroud and "Typenhandbuch der deutschen Luftfahrttechnik" by Bruno Lange.
(2)                 Most of the information about the Norwegian LFG V 13 Strela's comes from the book "Luftbussen til Kontinentet" by Rob Mulder.
(3)                 The picture of the LFG V 13 Strela, N-32 in front of the Kvikne's Hotel comes from the family Kvikne. Other pictures via author.